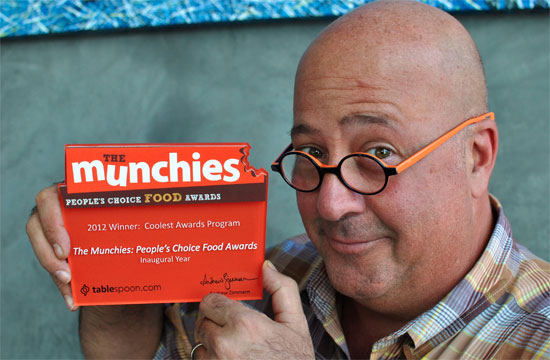 Like a backyard version of the James Beard Awards, the second annual Munchies: The People's Choice Awards, hosted by Andrew Zimmern and Tablespoon.com, were announced this morning. For those of you continuing to nurse a James Beard hangover, here's how the Munchies work: Zimmern and a panel of 26 experts (chefs, journalists, and media personalities alike) compile a list of nominees in each culinary category which are then open to a public vote.
Some recognizable names can be seen below, like Alton Brown (who thanked his fans for the Best TV Personality win via Post-It), Roy Choi (whose Kogi BBQ was named Best Food Truck), Thomas Keller (for writing Bouchon Bakery), and Hugh Acheson (for just being The Best Chef).
The full list can be found below, and congratulations to all! Long live the democratic process, even though it appears to heavily skew Midwest.
TERRIFIC TASTEMAKERS
Best Food Reality TV Show: "Chopped" (Food Network)
Best Food TV Personality: Alton Brown, "Good Eats" (Food Network)
Best Food Magazine: Cooking Light (Time, Inc.)
Best Food Blog or Site: Serious Eats
Best New Cookbook: "Bouchon Bakery," Thomas Keller and Sebastien Rouxel (Artisan)
Best Food Podcast or Radio Show: "NPR: Food" (NPR)
Best Chef: Hugh Acheson, Empire State South, Atlanta
BEST BITES
Best Burger: Butcher and the Burger, Chicago
Best Pizza: Bar Toma, Chicago
Best Taco: La Condesa, Austin, TX
Best Ice Cream: Graeters, Cincinnati
Best BBQ: Oklahoma Joe's, Kansas City, KS
Best Breakfast: Loveless Cafe, Nashville, TN
Best Late Night Food: Waffle House, Atlanta
DELICIOUS DESTINATIONS
Best Local Farmers Market: North Market, Columbus, OH
Best Food Truck: Kogi BBQ Truck, Los Angeles
Best Coffee Shop: Joe, New York
Best Craft Brewery: Rogue Ales, Newport, OR
Best Bakery: Hoosier Mama Pie Co., Chicago
Best Food City: Chicago
Have a tip we should know? tips@mediaite.com