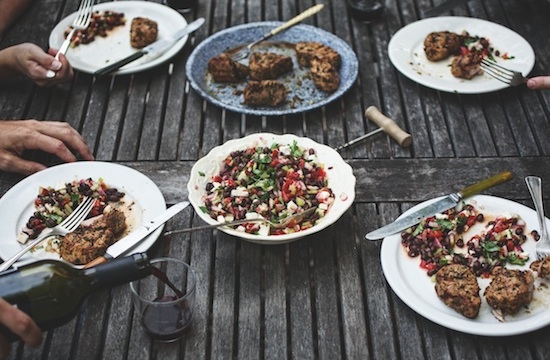 Let's recap how our usual Labor Day grill-outs, barbecues, and parties go: We make lazy person plans to "maybe do something" with people that weekend. We wake up that day, probs hungover from the night before (hello, three-day weekend!). We think to ourselves "Oh, crap on a stick we're having people over in five hours and we are NOT PREPARED." We rush to the store, pick up whatever prepackaged foods we can find and well, more booze, rush home, pick up the shit we left all over the floor, make our beds, attempt to shower and look like a well-kept human being, pour ourselves a big ol' glass of wine, and then put said prepackaged foods on a plate while guests come in.
Folks, we can do better than this — and so can you.
We know you want to pretend to be Bobby Flay or Amanda Cohen this Labor Day weekend and whip out all the stops, but we need to be realistic. So we swear, these recipes are only borderline difficult and time-consuming. (Because we know you need to get your drink on just as much as we do.) We got some drool-worthy recipes from our chef friends (Art Smith! Charlie Palmer! Duff Goldman!) to do the work for us, and then we'll kick back with a few of those Berry Spritzers and whiskey cocktails. Get on it, Labor Day partiers.
Gallery unavailable
RELATED: 10 Foolproof Grill Tips From Our Favorite Chefs
PHOTOS: 9 Chef-Tested And Approved Burger Recipes
Main image via Remington Camp Cooking by Charlie Palmer.
Have a tip we should know? tips@mediaite.com