Adorably Diabolical MasterChef Junior's Sarah Says She's Friends with Nemesis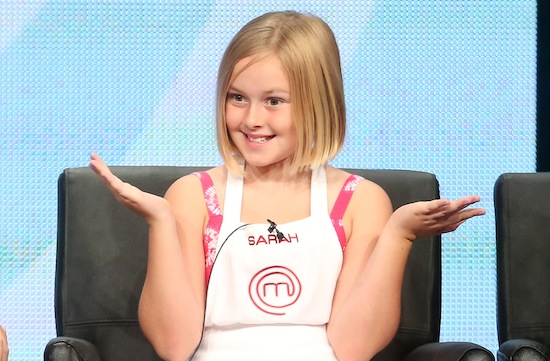 After our girl Sarah got the elimination after last night's MasterChef Junior, we knew we'd be going through a little bit of sassy withdrawal. Thank goodness we've gotten our Sarah fix from Vulture.
Vulture talked to the fourth-grader "breakout star," in that someone else has caught on that Sarah was in fact the star of MasterChef Junior. In the interview, she says that she and Troy are still totally BFFs (it sure didn't look that way during the Restaurant Takeover), and admits that she really did have a diabolical mindset from the get go. Mainly against Alexander, because that guy is just too good.
[Vulture:] Did you have a strategy when you started on the show?
I had one major strategy after the very first challenge: Like, Boom! Get Alexander out. Everyone knew he was tough competition. Everyone thought that. I'm not saying no one else was passionate, but he's super passionate and has his future all planned out.
Is that why you picked the layer cake?
Well, I was thinking about all the options. Like, fruit tart. Alexander said before once to me that he knew how to do a fruit tart. So I was like, "Well, I'm not picking that!" Cupcakes. Everyone can do cupcakes. They're really simple. Kaylen made them for her audition, so obviously she would love that! So then I was like, "Hmm, layer cake is really hard to make." I don't think most people can do that and make it amazing.
Sarah says she had a gut feeling she wouldn't make it into the finale because of her age. And you know, shit was getting harder. But she predicts that the winner will be her frenemy Troy or Alexander, because obviously:
I'm definitely rooting for Troy or Alexander. I feel like Troy, he has the guts to try these weird things that you would never think of in everyday life. And Alexander is just really super knowledgeable about the food he cooks.
Oh, and she's going to be a robot dancer for Halloween. See? Adorably diabolical.
[Vulture]
RELATED:
WATCH: S*** Gets Real in the Restaurant Takeover on MasterChef Junior
Tonight in Food TV: MasterChef Junior Judges Swap Fat Kid Tricks
"WATCH: MasterChef Junior Becomes the Sarah, Dara, and Kaylen Show (Finally)
Have a tip we should know? tips@mediaite.com