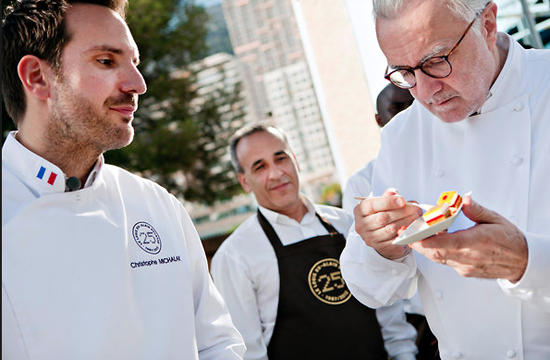 If you get to the top of the culinary world, you get to do a bunch of really cool stuff (apart from book deals and fancy parties). But if you're Alain Ducasse, and you've maintained a 3-star Michelin restaurant for 25 years in Monaco, you get to throw the megaparty of the century, and you also get to invite the best chefs in the world.
The New York Times also got to fly out to Monaco (obviously) to the 25-year anniversary of Ducasse's Louis XV, where they caught Rene Redzepi and Magnus Nilssen gawking at the fact that they were invited to a party whose guests held a collective 300 Michelin stars. " [The 29-year-old Nilssen] thought his first invitation from Mr. Ducasse was junk mail," they wrote, "and it was not until a paper copy arrived that he believed it."
Also attending: Joel Robuchon, Guy Savoy, Daniel Boulud, Michael White, David Chang, Graham Elliot, members of the Royal Family of Monaco, and a gajillion other lauded chefs from around the world who feasted for days on end.
But it's the descriptions of the food that makes us wonder if this fête was more akin to R. Kelly's White Party, except with the requirement that everyone cook while wearing their whites:
A Mediterranean market was organized on Saturday to highlight the products and producers of the region, a stunning display of fish, vegetables, breads, cheese and wine, with some of the chefs making dishes that they had invented for the occasion using local ingredients (and, it should be said, quite a lot of truffle). Dong Zhenxiang of Dadong restaurant in Beijing, for example, took local lamb and marinated it in sesame and Sichuan spices.

A dinner Saturday night had seven courses and an extraordinary selection of spirits and wines, including Dom Pérignon Rosé Champagnes from 1995 (never marketed) and 2000, a Dom Pérignon from 1993, Cheval Blanc 2004 and Château d'Yquem from 1988.
That's some real fancy stuff, there.
[NYT]
Have a tip we should know? tips@mediaite.com