Alain Ducasse, Who Has 21 Michelin Stars, Doesn't Think Chefs Should Worry About Michelin Stars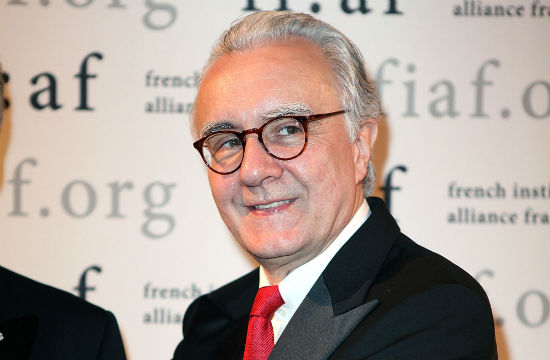 "Michelin is something of a mystery," Alain Ducasse told Luxury London in an article that came out today. "A lot of emphasis is placed on it. But does it matter in, say, Brazil, or the UK? The goal of any chef should be to fill his restaurant, not to spend his time thinking about awards."
Sure, right. Doesn't matter at all, says the guy who has 21 of them. Of course chefs should be working on filling restaurants, but having that coveted Michelin star doesn't hurt. And for Ducasse, his influence likely wouldn't be as large without them. Ducasse was talking to the website about French Cuisine and how he's hoping to change the public's perception of it. He told the site:
The problem now is that French cuisine is always regarded as being haute cuisine – too complicated, sophisticated, expensive and a bit arrogant. It's important again for France to say we're here, but also to get the message across that actually our cuisine is diverse and accessible. It's not all about the big names – little bistros offer amazing food. Yet Paris has yet to find that dynamism of new ideas that you find in London.
One of the main problems with French food today is that it's competing with street food. It's food that may not have the Michelin name behind it- they're not "exploratory" enough yet- but it's the food people want to eat now.
Currently, he's the frontman for Goût de France, an initiative helmed by the French government to help change the perception of French food, a task Ducasse admits is difficult. Goût de France is an annual event that brings 1800 chefs together to cook a different kind of French food- food without as much fat, sugar and salt as the cuisine is known for.
Ducasse is working on changing some of his own food as well. He recently added all vegetarian menus to two of his restaurants in Paris, which meant exploring the concept of meatless fine dining. But he does acknowledge that that's the future. "The fact is that we need to have a more sustainable, more humanistic vision of cuisine. We have to change things and find protein in sources other than animals," he said.
Of course, French has a ton of history, and Ducasse is leaning in to that as well. Later this year, he will open the first full service restaurant in the Palace of Versailles. The dishes will be "based on historic menus unearthed among court documents dating to the early 1700s." The restaurant will use some of the original china from Louis XVI and Marie Antoinette as well.
[via Luxury London]
–
Have a tip we should know? tips@mediaite.com