Allrecipes.com Launches Print Magazine; Forgets Print Has Been Dead For The Whole Movie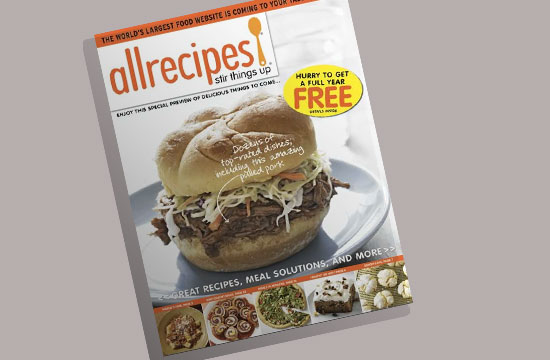 In the grand tradition of Norman Bates in Psycho and Bruce Willis in The Sixth Sense, AllRecipes.com has announced that they will soon launch a print magazine version of their website…not realizing that throughout the entire movie, print has been dead all along.
What kind of real-world prompt sparked this descent into delusion that a print magazine could actually be profitable? According to the Wall Street Journal's online newspaper, which has been blocked behind a paywall for the express purpose of squeezing every dime from any potential consumer of the written word, AllRecipes.com syndicates their recipes to other print magazines, like "special interest publications." Every time they do, a representative of the site stated, sales of those publications jump 45 percent.
But as they dance with the shriveled corpse of print media, their twisted, warped psyche blocks out the fact that many other "special interest publications" dealing with food and entertainment, like Martha Stewart Living and Every Day with Rachael Ray have consistently lost money, and the ultimate grand dame of food magazines, Gourmet, was famously run into the ground.
"We're big believers in print, and so far what we're seeing is print continues to be the mode of choice for a lot of our female consumers," Tom Harty, president of Meredith's National Media Group (which publishes AllRecipes.com), told WSJ. Okay, that's fair, since those women happen to be women…like this one…
[cue dramatic crescendo of violins]
Print media is spooky.
[WSJ via The Daily Meal]
RELATED:
Robert Parker Leaves The Wine Advocate, Sells Magazine To Asian Investors
Gilt Taste Nixes Its Editorial Component, Ruth Reichl Is The Eternal Editor Without A Magazine
Martha Stewart Lays Off 70 Staffers On The Heels Of Hurricane Sandy
'Grant Achatz' And Other 'Celebrity Chefs' Create 'Recipes' For Kellogg Crackers
Have a tip we should know? [email protected]