Amy's Baking Company Hires Joe Arpaio's PR Firm To Change Public's Perception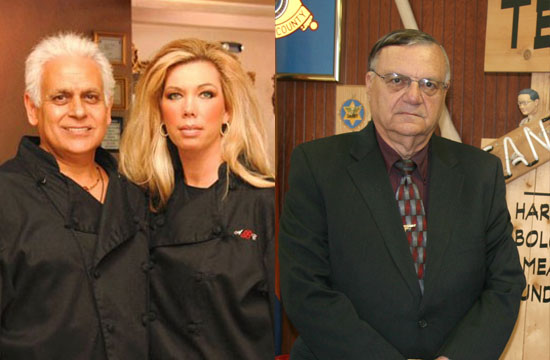 After finding themselves the butt of online jokes following their appearance on Kitchen Nightmares, and after posting a massive, all-caps meltdown against the "Reddits" on Facebook, Amy and Samy Bouzaglo have hired Rose, Moser & Allyn, a Scottsdale, AZ public relations firm, to restore what morsels of a good name they have left at Amy's Baking Company. The Internet should brace itself, because those wacky Bouzgalos might remain in business for a damn long while thanks to the work of these guys.
How good is Rose, Moser & Allyn? They represent the highly controversial Maricopa County Sherrif Joe Arpaio, the law enforcement official so divisive that someone recently tried to blow him up with a package bomb. Time Magazine describes him thusly:
The 80-year-old lawman, who describes himself as "America's toughest sheriff," has served for the past two decades and is best known for the tough talk that made him a centerpiece of the undocumented immigration debate. He has logged more than 35,000 arrests of people who were accused of being in the country illegally. So staunch was his position that the Department of Justice investigated him for racial profiling in 2010.  He's also built open-air tent cities to house prisoners at a cheaper cost to the county and ordered that inmates' uniforms be changed to pink because he felt that the color would be psychologically calming to them.
Frankly — and we say this with the utmost sincerity — it might be easier to represent a hardline, anti-immigration extremist than a couple who claims that their children inhabit cat bodies. Nevertheless, given the brief bio above, Arpaio and the Bouzaglos don't seem that many degrees apart: at some point, the Bouzgalos would have totally started keeping their ejected customers in tent cities.
As their first PR move, Rose, Moser & Allyn got the Bouzaglos to stage a grand re-opening for next Tuesday, with a press conference and a limited seating dinner, where customers can "judge for themselves the character of owners Amy and Samy… who have devoted their lives to, and earn their living from, their small restaurant." (That's from the press release written by the PR firm. Isn't it a good one? It's so heartstring-tuggy, and such.)
[ABC15]
Have a tip we should know? tips@mediaite.com