Andrew Zimmern's Craziest Superbowl Moments: Playboy Playmates, Beignets With Lorena Garcia, And Texts From Adam Richman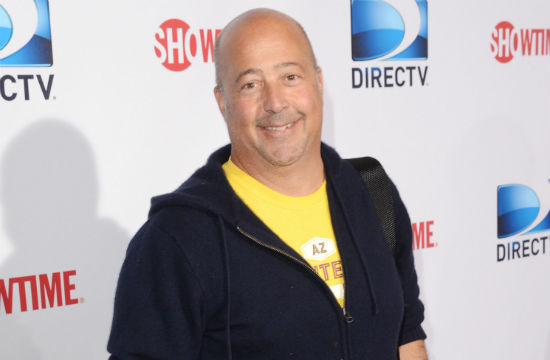 So, Andrew Zimmern got to go to Superbowl 2013 in New Orleans, pig out on John Besh's food, raise some money for food banks, and rub elbows with A-listers all weekend, and you most likely did not. But it's totally okay, because he wrote a lengthy blog chronicling his rowdy experience as a "mid-level B-list cable TV guy," and we've plucked the three craziest excerpts for your consumption. Who knew Playboy Playmates were so into food guys? We wonder what would have happened if Anthony Bourdain had been sauntering about NOLA before ravenous Playboy models. Oh, wait, no — we know what would have happened: Ottavia "Tasmanian Devil" Bourdain would have kicked some bunny ass.
Andrew Zimmern on crab cake lumping, Playmates, and 3 a.m. drunk food with Lorena Garcia:
"So Friday nite at 11 p.m. I show up at the Playboy party. Wow. Yes it was what you expected. Music thumping, booty bumping, crab cakes lumping, crazy, crazy…Lots of networking, and fending off the Playmates and wanna-be Playmates and Bunnies who all ignore the NFL-ers and sponsors and media to try to collect as many middle aged devilishly cherubic food dudes as they can. Just sayin'. More parties, and by 3 a.m. I am sipping Café au Lait and eating beignets at Café du Monde with drunk street urchins, shifty grifters, cops, Lorena Garcia, and crazy fans leaving bars in the French Quarter."
Andrew Zimmern on not getting red carpet media attention against the likes of the VIP crowd:
"Getting taken down a peg is good for your spiritual development and it puts things in perspective. I feel better about life and more grateful than I have in months. My agents and managers on the other hand look crushed that I got so little love. I was thrilled. I mean, I got to walk the carpet with my idols. I hit the VIP area, grab some chow and immediately am told that I am in the 'other' VIP holding pen. I am moved three times before I get a text from Adam Richman that Peyton Manning's security ran him over in the carpet tent. Snoop called it 'cold.' This Super Bowl VIP thing is brutal."
Andrew Zimmern on the single wildest concert experience we can possibly imagine coming into existence:
"I race out of there by 10 and head to the Direct TV party zone for the concert. I am not prepared for what is inside. They have taken out the Beach Bowl field, and all the sand and the bleachers, and created a night club in its place…in four hours. There are erotic dancers, oysters and champagne, an A+ list crowd, and Questlove killing it, best set I have ever heard him spin. Timberlake came out with a 20 piece orchestra after a five-year performance hiatus and wowed the crowd despite high expectations…his cover of Michael Jackson's Shake (your body down to the ground) was EPIC. Jay-Z appears and all hell breaks loose. Will Ferrell is in the parking lot as I leave and turns down our offer of a ride out of the event but takes time to sign autograph for our driver and make us laugh with some signature ribaldry. We check out the GQ party with Lil' Wayne and the Stevie Wonder party that Bud Light threw, then off to the Ogden Museum for a final stop of the night. It's 4 a.m. before I get back home."
Guys, Andrew Zimmern is kind of a big deal… And you can check out a recap of his whole weekend here.
Have a tip we should know? tips@mediaite.com