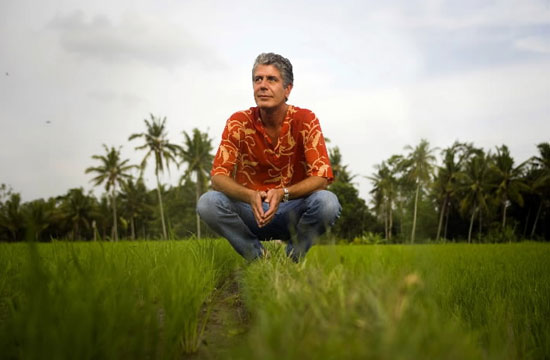 A few days ago, Anthony Bourdain tweeted that he'd be traveling to a mysterious location to shoot his new CNN show, Parts Unknown. This morning, he finally revealed his location: Libya. (Gratuitous Self-Celebratory Moment: We called it!)
This is a huge deal for journalism, since Bourdain's show may contain the first coverage of the Libyan Civil War that actually does things like focus on the lives of everyday citizens affected by the overthrow of a megalomaniacal dictator, the collapse of the Arab Spring's idealism, and the looming threat of fundamentalism-driven militias, which, really, the 24-hour news cycle is not such a big fan of discussing. (Psshhh.)
In fact, Bourdain's show could utilize a rarely-used journalistic technique called "nuance", and might not even contain the following words:
Hillary Clinton
Conspiracy
Benghazi Hearings
The United States Congress (such a gross word)
Hillary Clinton running for president in 2016
Partisanship
Black Flower In The White House (…actually, if Bourdain found a copy of that song, we wouldn't mind.)
Whoa! We just realized that if Bourdain avoided saying all of those words, he could file a story on Libya that wasn't centered on American political theater! That would be so weird.
In any case, Bourdain's been tweeting photos from his travels around the most war-torn areas of Libya, some of which can be seen below. Congratulations, Bourdain. You've punched your journalist V-Card. (And you look the part, too!)
Met a lot of ordinary people who did extraordinary, heroic things. Toppled a hideous, megalomaniacal dictator. #Tripoli #MisrataBoyz #Libya

— Anthony Bourdain (@Bourdain) January 30, 2013
Homemade rocket launcher. Probably manned by an accountant or a shopkeeper against Russian made tanks. #Misrata twitter.com/Bourdain/statu…

— Anthony Bourdain (@Bourdain) January 30, 2013
Any steaming butthole who suggests "Things were better under Gaddafi" should have his nuts slammed in a drawer #Libya

— Anthony Bourdain (@Bourdain) January 30, 2013
The medina #Tripoli twitter.com/Bourdain/statu…

— Anthony Bourdain (@Bourdain) January 30, 2013
Gaddafi's house. Now listed as a "fixer upper" #Tripoli twitter.com/Bourdain/statu…

— Anthony Bourdain (@Bourdain) January 30, 2013
On far right, a "tank" made from a bulldozer with crudely welded metal plates as protection #Libya twitter.com/Bourdain/statu…

— Anthony Bourdain (@Bourdain) January 30, 2013
Scud missile #Libya twitter.com/Bourdain/statu…

— Anthony Bourdain (@Bourdain) January 30, 2013
Scud missile #Libya twitter.com/Bourdain/statu…

— Anthony Bourdain (@Bourdain) January 30, 2013
Leptus Magna Onetime Roman capital of Africa #Libya twitter.com/Bourdain/statu…

— Anthony Bourdain (@Bourdain) January 30, 2013
And what they were up against. Russian made Gaddafi's tanks gathered in vegetable market. twitter.com/Bourdain/statu…

— Anthony Bourdain (@Bourdain) January 30, 2013
Have a tip we should know? tips@mediaite.com