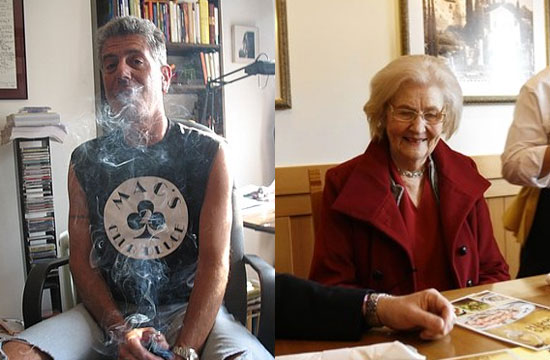 Who knew Anthony Bourdain had a soft spot for nice old ladies from North Dakota? Colman Andrews apparently didn't, since he wrote a column over at The Daily Meal wondering what the fuss over Hagerty was about.
At this point, Hagerty, 86, is not only getting a book of her columns published by Bourdain's Ecco Imprint, she's also being awarded the prestigious Al Neuharth Award For Excellence In The Media, which has gone to luminaries like Katie Couric, Helen Thomas, and Walter Cronkite. For him, one of these award winners is not like the others, and why "the Olive Garden reviewer" had blown up was completely beyond him:
So what's the point of the book? Is it being produced as some sort of cynical joke gift? Is it going to be something people will buy and give, ironically, to their food-conscious friends, in the same spirit that you might give garish thrift-shop art to an aesthete of your acquaintance, or a bottle of Ripple to the wine connoisseur on your Christmas list? I'd like to think that Anthony Bourdain is not just being some mean-spirited trickster who signed on Hagerty in order to make arch fun of her. But maybe he's making arch fun of us.
One, if Bourdain were making fun of someone, he'd do it quite loudly and publicly, because he's not Regina George. Two, that last sentence was a completely open invitation for this:
Colman Andrews demonstrates supernatural powers by reviewing a book that doesn't exist yet! #ihaventreaditbutivemadeupMYmind

— Anthony Bourdain (@Bourdain) August 22, 2012
"At last, someone recognizes my gift," Andrews deadpanned.
But Bourdain, having actually read the book, said it was, "whatever you may suppose, an extraordinary and beautiful thing."
[The Daily Meal, h/t Eater]
Have a tip we should know? [email protected]