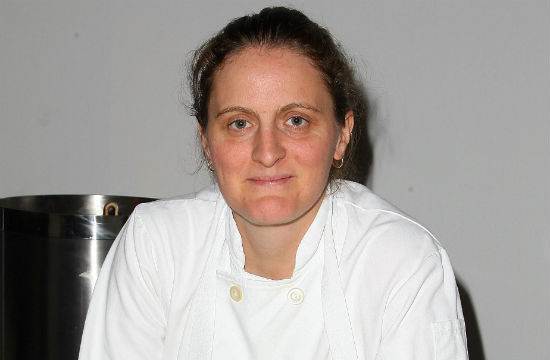 Our girl crush on April Bloomfield blossoms. Not only is April Bloomfield impossibly sincere at all times, she has those British twinkly eyes!
We Stateside cynics have her to thank for the American gastropub, of which she basically acts as the patron saint while helming the Michelin-starred original, The Spotted Pig. As the godmother of the genre, though, Bloomfield still misses her hometown pub scene.
"Bars here are nice, but there's something quite special about the pubs in England. There is a special hum of chatting in a pub that I miss a lot," she told Andrew Zimmern in a recent interview.
And, because he's Andrew Zimmern, he of course asked her to divulge her personal feelings about the snout-to-tail movement, which, like any respectable British girl, she's a strong advocate of.
"I respect a lot of things in my life and I handle things with respect, whether it be an almond or pots and pans. I like to take care of things. That translates into the whole animal ethos. I like to be respectful of the animals I cook with and know where the meat comes from. I think it's important to use as much of the animal as possible. It helps connect you with your food. In my restaurants we use everything, from the nose to the tail to make things like terrines, sausages and bacon."
See what we mean about the impossible sincerity? Be as kind to your almonds as you would be to your Teflon, boys and girls.
Have a tip we should know? tips@mediaite.com