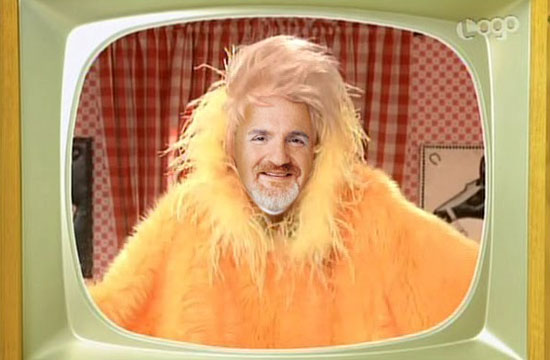 Werking the red carpet at the Top Chef: Masters Season 4 premiere party in a Chik-Fil-A drag outfit will be none other than newly trim and fit cheftestant Art Smith. Or, at least, he will be if he gets enough encouragement (note: we encourage it). He tweeted that he was thinking of having his own personal Jesus (AKA, hubs Jesus Salgueiro) whip him up something truly spectacular for his premiere party outfit.
Bravo Top Chef Masters 4 premier in Las Vegas. Thought about having Jesus my husband make me a pair of Chic Fil A shorts? Should I? Could I?

— Chef Art Smith (@chefartsmith) July 20, 2012
Oh, but it's going to be infinitely cooler than just a pair of Chik-Fil-A Jorts. Art and Jesus have now evolved their concept into an entire Chik-Fil-A drag ensemble. He's running it by Andy Cohen first, natch.
Andy Cohen my beloved fashionista! Honey my red carpet drag for Bravo Top Chef Matters 4 premier in Vegas. Chic-Fil-A Chic?@BravoAndy

— Chef Art Smith (@chefartsmith) July 20, 2012
It is absolutely imperative that someone follow Art around that party blasting Countess LuAnn de Lesseps's "Chic, C'est La Vie" the entire night. Bonus points if it plays over the sound system every time he enters a room.
Thoughts? Questions? Concerns? Personally, we love statement pieces, and have complete faith that Jesus will come up with something chic and sophisticated for the occasion…
Alright, guys, we've exhausted our fashion vocab. Hopefully certain sister sites aren't too embarrassed by us.
Art's fab idea is already garnering support from his Twitter fans. Are we the only ones who want to see Haus of Gaga collaborate on this effort? (Ooh! Look! We remembered another fashion thing!)
[Twitter]
Have a tip we should know? tips@mediaite.com