National Movie Theater Chains Release Statements, Cinemark CEO Says Shooting Was 'Isolated Incident'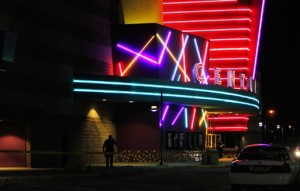 The biggest movie theater chains in the country have issued public statements reacting to the shooting in a theater in Aurora, Colorado, all of them making security a number one priority for their patrons. In a Facebook post, Regal Cinemas said they will "continue to monitor the situation and adjust our security needs as necessary." AMC Theaters released a statement saying they are "working with local law enforcement in communities throughout the nation" to work on their security procedures.
RELATED: Warner Bros. Considers Canceling Dark Knight Screenings In Wake Of Colorado Shooting
The Century 16 theater in Aurora where the shooting took place is owned by Cinemark, and Tim Warner, the president and CEO of Cinemark, spoke earlier about the tragic shooting.
"I've been shedding a lot of tears this morning. I just feel devastated. It's such a tragedy," Warner says…

"This is just an isolated, deranged gunman who had access to really high powered weapons," Warner says. Since the accused killer is in custody, Warner says the show will go on. Right now the company doesn't have any plans to cancel screenings or make any security changes.

"The person had an assault weapon that would probably overpower any security that we would have had. There is no reason for a panicked response. I do feel this was an isolated incident," Warner says.
Meanwhile, the Canadian movie chain Cineplex Entertainment announced on Twitter earlier that part of the proceeds from tonight's box office will be given to a Red Cross violence prevention program.
—–
Follow Josh Feldman on Twitter: @feldmaniac
Have a tip we should know? tips@mediaite.com
Josh Feldman - Senior Editor