Aureole Turns 25, Charlie Palmer Celebrates by Throwing Two-Month-Long Bacchanal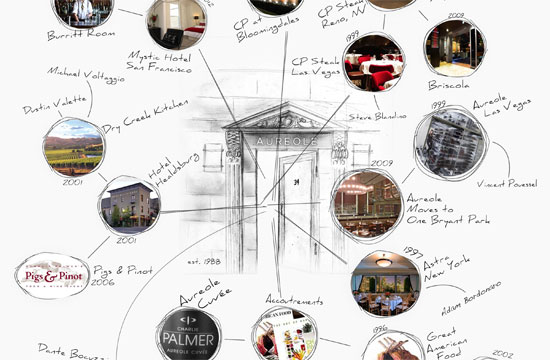 In 1988, a young Charlie Palmer opened Aureole on the Upper East Side, and eventually grew it into a multimillion-dollar fine dining empire, with eleven restaurants across the country, famous alumni, and unnecessarily decadent sparkly flying women on wires fetching wine.
This year, Aureole turns 25, which makes it 113 years old in restaurant years.
To celebrate its anniversary, Palmer will do the thing that he does best and throw a two-month-long series of extravagant celebrations, starting this Sunday with an oyster social, and ending on November 18th (the anniversary of Aureole's opening) with a giant fundraiser to benefit his alma mater, the Culinary Institute of America.
Did you think that we were exaggerating when we used the term "extravagant"? We are absolutely not. Not only did Palmer invite his famous alumni (Bryan Voltaggio, Michael Mina, and Gerry Hayden among them) to design menus based on Aureole classics, he's throwing five giant themed parties. For instance, the Oyster Social on September 22nd will basically be a celebration of two things: unlimited raw oysters, and obscene amounts of champagne. (If this sounds like a fantastic idea, tickets are available here — all proceeds will go to Citymeals-on-Wheels.)
Do you still think that this is going to be some dinky party series and not an alarmingly indulgent marathon of food? Here's a Braiser True Story:
Once upon a time, we were invited to Aureole in Bryant Park to try one of Palmer's new menu specials. The "menu special" ended up being a three-course lunch, its centerpiece a magnificent côte de bœuf the size of a hubcap (for two, of course). Out of nowhere, Charlie Palmer appeared with a magnum of bourdeaux, sat across the table from us, and insisted that we drink it all. And then he poured a basket of fries onto our steaks. "There's no other way to do it," he declared, placing another piece of steak on top of the fries, dousing the steak-fry-steak pyramid with jus, and staring at us intensely until we finished it.
This was a Thursday afternoon.
RELATED:
Charlie Palmer Jumps On The President Bandwagon With Menu Based On Presidents' Favorite Foods
Colicchio & Sons Hosts Star-Studded Line-Up Cooking For Gerry Hayden's ALS Benefit
Have a tip we should know? tips@mediaite.com