Betting on Top Chef Duels, Episode 1: Richard Blais Versus Marcel Vigneron (Updated with Winner)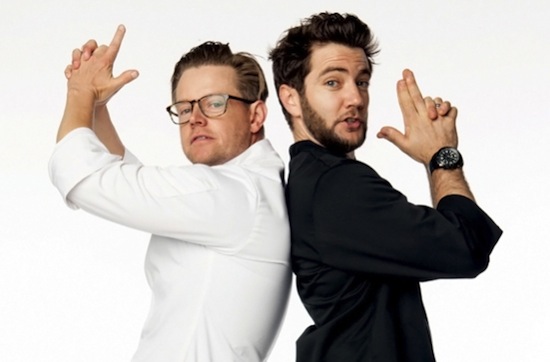 Because there's never enough Top Chef, so says Bravo, we are now privy to the newest of the franchise spin-offs: Top Chef Duels. Let's get the cockfight going and see who wins these battle of the brawn — er, culinary challenges — of the season.

Episode 1: Richard Blais Versus Marcel Vigneron
From Bravo:
Two of the most notorious "mad scientists" in Top Chef history face-off once again, Top Chef All Stars winner Richard Blais and competitor celebrity chef Marcel Vigneron. First, Marcel challenges Richard to make a dessert featuring both a hot and cold component while Richard chooses to challenge Marcel to make one of his specialties, a burger. And for their Duel that will decide who moves on to the finale, Richard and Marcel must concoct a three-course meal specifically designed to entice each of the judges' senses. Although Richard won the title when they competed against one another on Top Chef All Stars, never underestimate the power of revenge!
Accolades Between the Chefs: Mostly a lot of shows between them. Blais' cookbook, Try This At Home: Recipes From My Head to Your Plate, was nominated for a James Beard award; Vigneron has worked with all the best chefs — your Adrias, your Andres, your Rubuchons.
Number of Predicted Meltdowns Between the Two Competitors: 12. Vigneron will overcook the burger, and Blais will inevitably melt the cold part of his dessert.
Will This Make for Good TV: Yes. Vigneron is sassy!
(Also, that mug in the freeze frame in the video below from Vigneron.)
Who Would Win in an Actual Food Fight: Vigneron — he's scrappy.
Who We Predict Will Win the Challenge: Tough one, but Blais. The Top Chef All Stars winner should be in the finale, but — perhaps trying to change up the winners could give Vigneron an edge? Nevertheless, topping Blais' burgers will be an uphill battle for Vigneron.
Share with us who you think will win this episode — or who would win in an actual food fight.
* Update: We are one for one, so far. Sorry, Marcel – we want that dragonfruit dessert in our mouths like now.
[Bravo]
Image via Bravo
Have a tip we should know? tips@mediaite.com