Bourdain Backs Seal Hunting, Slams Chefs Boycotting Canadian Seafood Products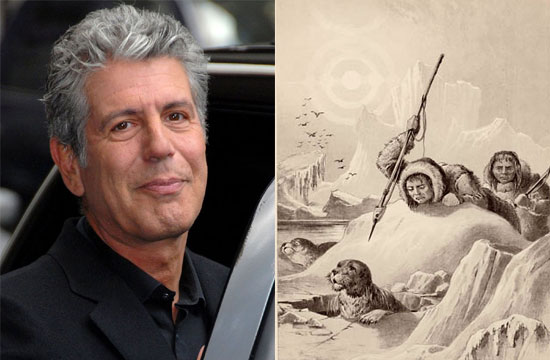 While the headline may be sensationalist, the story is true: Anthony Bourdain took to Twitter today to defend the controversial Inuit practice of seal hunting.
After nearly forty of his fellow chefs (including Danny Bowien, Michael Symon, Stephanie Izard, and Scott Conant) signed a Humane Society petition demanding that the government of Canada outlaw seal hunting and pledging to boycott Canadian seafood products until they do, Bourdain began tweeting his fellow chefs to reconsider their position.
Having spent time among the Inuit, participating in a seal hunt and eating a prized eyeball on No Reservations, Bourdain argued that seal hunting wasn't a quaint and outdated cultural practice, but an absolutely necessary means of survival in Nunavut, a Canadian province the size of Mexico that's home to roughly 31,000 people — mostly Inuit. "I'm all for protecting seals," he tweeted to Bowien, "but a total ban dooms the indigenous people above arctic circle to death or relocation.
To hold the entire Canadian seafood industry hostage over sustainable, absolutely necessary tribal practice is ill considered.

— Anthony Bourdain (@Bourdain) October 28, 2013
Prices of anything non local in Inuit stores are twice that of Montreal due to transport costs. And of course, nothing grows.

— Anthony Bourdain (@Bourdain) October 28, 2013
(For proof: The BBC, with a photo of a $28 head of lettuce. It's real.)
I completely understand well meaning intentions of good hearted chefs who signed this petition. But they are wrong . Visit the Inuit — Anthony Bourdain (@Bourdain) October 28, 2013
Read this before suggesting First Nation people adjust their diets to our comfy standards http://t.co/z6rGHwa05y — Anthony Bourdain (@Bourdain) October 28, 2013
There is also the outcome of uncontrolled seal populations on fisheries to consider. See codfish…

— Anthony Bourdain (@Bourdain) October 28, 2013
Seals eat a lot of cod. Diminished cod populations impact traditional diets throughout Scandinavia and Med. it's a delicate balance.

— Anthony Bourdain (@Bourdain) October 28, 2013
From Boston Magazine, which delves deeper into the environmental impact of uncontrolled seal populations:
According to the National Marine Fisheries Service, gray seals consume between 4 and 6 percent of their weight per day. A mature male can weigh 800 pounds and up, which translates roughly into a daily diet of 32 to 48 pounds of seafood—an amount that, multiplied by thousands, has fishermen concerned, especially since the rise of the seal population in the area has coincided with a precipitous decline in fish stocks.
@Bourdain there are so many seals on cape cod, the sharks have come in full force. Dangerous to swim. — bill m (@tuckrule68) October 28, 2013
To my well intentioned comrades. First they come for your foie. Then…. http://t.co/rIlnqZZ3Dn — Anthony Bourdain (@Bourdain) October 28, 2013
I am not suggesting that overfishing of cod isn't a problem. Just that unconstrained seal populations might well be a problem too.

— Anthony Bourdain (@Bourdain) October 28, 2013
And there is certainly a commercial dimension to Indigenous seal hunts. They should be allowed to make a living as well as feed themselves.

— Anthony Bourdain (@Bourdain) October 28, 2013
Should these chefs boycott all Japanese products over whaling? Chinese over finning? Where do these tactics end? Canada an easy, PC target — Anthony Bourdain (@Bourdain) October 28, 2013
I question, too, whether collectively punishing the entire Canadian fishing industry (and fishermen) over sealing is fair or wise. — Anthony Bourdain (@Bourdain) October 28, 2013
And, of course, Bourdain takes a shot at the chefs, sitting pretty with their walk-ins and 18-top propane burners and access to farms:
The combined carbon footprint of the 40 odd chef signatories is equal to a small African nation.

— Anthony Bourdain (@Bourdain) October 28, 2013
We're excited for Bourdain to start making the case against pandas. The internet would just explode. (And really, there's a strong case to be made against pandas.)
[Twitter]
RELATED:
Curtis Stone To Singlehandedly Save All The Baby Seals In Canada (With Help From The Humane Society)
PETA Targets Gordon Ramsay With Screaming Fish 'Empathy PSA'
Meatopia 2012 Spoofs PETA With Anti-Vegetable Abuse Ads
Have a tip we should know? tips@mediaite.com