Bridget Moynahan Embarrassingly Admits to Accidentally Harrassing Padma Lakshmi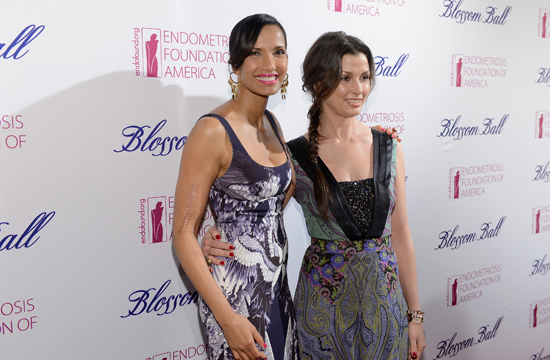 In our continuing "Padma Lakshmi Takes Over The Media" coverage, we bring you this breaking story from actress Bridget Moynahan, who interviewed her friend and fellow model for Hamptons Magazine (the premier rich people/celebrities magazine).
It must be so hard to be a celebrity, we realized while reading the story of how Moynahan and Lakshmi met. You're expected to remember every single celebrity face, even if you've never met them; you're expected to instantly empathize with the shared plight of Famousness. Watch as Bridget Moynahan fails at doing one of those things:
Years ago, I was waiting patiently for a flight from Nantucket to the Hamptons. The incoming flight was late, so we were all waiting in the airport, staring at each other and counting the minutes. I ended up doing something that still embarrasses me to this day—I thought I knew one of the other passengers and asked her, "Have we met?" Of course, she replied no, but I could not let it go and proceeded to mention every moment in my life that she could have been involved in, starting at sleep away camp in 1981. Long story short, she was right—I had never met her. It turns out, I recognized her from Top Chef and suddenly I was "that girl" doing "that thing."

I felt like a fool, she was exhausted from deflecting, and the flight was, needless to say, uncomfortable, but years later, when I met Padma Lakshmi through friends, it made for a really fun conversation. We have been friends ever since.

And good friends they are, which makes this interview the Hamptoniest interview we've seen in a while: the phrases "complete dinnerware set and Turkish glassware" with a "wildflower pattern" appear, in reference to Lakshmi's upcoming tableware line for Bloomingdale's. We also presume that this interview was conducted in a pristine white room covered in lilies and that across the bay, Mr. Gatsby stared at the tiny figure of his long-lost love Padma, obsessed, unblinking.
RELATED:
10 Top Chef Behind-the-Scenes Scoops From Padma Lakshmi's Reddit AMA
WATCH: Binge on All 6 Episodes of Padma's Picks
Padma Lakshmi Puts On Her Activist Pants (Activist Wrap Dress?)
Have a tip we should know? tips@mediaite.com