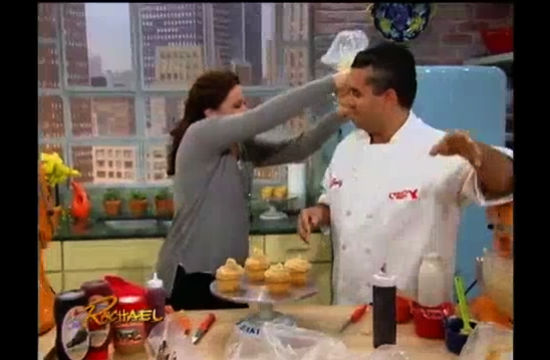 We love when Buddy Valastro visits Rachael Ray, only to mercilessly berate her baking skills on her own television show, so we knew it was only a matter of time before Rachael snapped. Today's episode was that show. Buddy was demoing his signature PB&J cupcakes, when he accidentally squirted a schmear of frosting down Rachel's leg and onto her (gasp!) suede boots.
Since it was a Tips Show, Rachel grumbled, did Buddy have any tips for getting peanut butter out of suede? When he came up short, she paid him back by squirting frosting onto his chef whites. Ha-HA! Then, Rachael hid his whipped cream in exchange for his stealing her knife. This is what a culinary tête-à-tête looks like, boys and girls.
On the whole, however, the most offensive part of this clip is Buddy's tip for eating a cupcake "Hoboken Style," ie., tearing off the bottom and placing it on top of the frosting for a macaroon-esque cupcake sandwich. First of all, this tip does not belong to Buddy; it belongs to former fat kids everywhere. Because as all former fat kids know, the cupcake sandwich is the best way to ensure proportional bites of cake to frosting, as well as the best way to keep frosting off the tip of your nose when sinking your teeth into a four inch thick layer. There is no second of all, except perhaps for the fact that claiming anything good originated in Hoboken is also offensive.
Have a tip we should know? tips@mediaite.com