Waitress at Carnegie Deli Steals Owner's Recipes and Husband, Opens Fake Carnegie Deli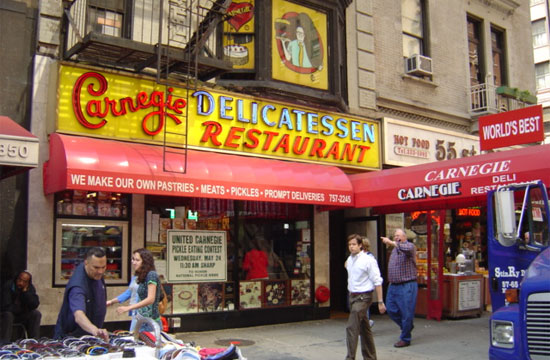 Carnegie Deli owner Marian Levine discovered that a waitress was not only having a decade-long affair with her husband, she also stole recipes, trade secrets, and merchandise from the legendary deli to open up her own Carnegie Deli ripoff in Thailand. Yeah, we know. Buckle up tight, because this is the wildest and most sordid affair you'll ever read about a famed New York deli, ever.
In a long, long, long long long profile in the New York Post, Levine, alleges that her second husband, Sanford "Sandy" Levine, carried on an affair with a longtime waitress, Penkae Siricharoen, originally from Thailand. But the affair didn't just constitute the normal things that come with having an affair — secret apartments in Manhattan and Boca Raton, diamond ring from Tiffany's, quietly investing in said mistress's restaurant — it also involved giving away the recipes for Carnegie's famed pastrami and cheesecake:
In 2008, Sandy Levine arranged a tour for Siricharoen and visiting relatives from Thailand of Carnegie Deli's New Jersey plant — where the company cured its meats and baked its cheesecakes.

Armed with what Levine said were "trade secrets," the visiting delegation went back home and opened a restaurant called Carnegie Deli Thailand in Bangkok, later changing the name to New York Cheese Cake…

Marian never knew there was a doppelganger deli across the globe.

Then, in December 2012, she learned from an anonymous caller that food was also being spirited out of Carnegie Deli. Marian said she got a voicemail message telling her that "Kay and some others have been taking out merchandise from your restaurant and sending it to Thailand. The last order they took out was about $5,000 worth of merchandise for which there is no invoice."

And she learned employees kept Siricharoen on the Carnegie Deli payroll long after she quit the restaurant in 2008.

"Somebody punched her in," she said. "She was making $750 a week as a manager even though she wasn't there."
Two more things make this story infinitely nuts: first, Levine considered Siricharoen close enough to invite her to the Hamptons home she shared with her then-husband, which makes the entire damn thing extra cold. Second, Siricharoen might not even be in the US legally. According to a lawsuit that Levine filed to kick Siricharoen out of a rent-stabilized apartment that, oh yeah, Sandy secretly bought for her:
After overstaying her visa decades ago, she returned to Thailand and used her dead sister's identification documents to get a new Thai passport in order to re-enter the US, the lawsuit alleges.
Levine can take solace in one fact: at least the Thai version of Carnegie Deli didn't feature Hitler.
[NYP]
RELATED:
Dunkin Donuts Thailand Runs 'Charcoal Donut' Ad Using Woman in Blackface, No One In Thailand Cares
The Colonel Vs. Hitler: KFC Sues Thai Chicken Restaurant For Taking Its Logo And Doing This
WATCH: 'The Last Jewish Waiter' At Katz's Kvetches To Customers About Pastrami
Have a tip we should know? [email protected]