Mediaite's Morning Reading List: Everything You Need to Sound Smart on Monday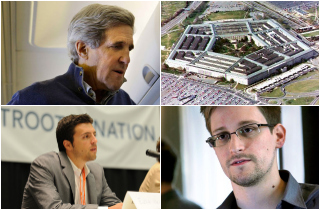 Every a.m., Mediaite publishes a primer of what the interweb machine is writing, talking, tweeting, and blogging about, so that you may fool friends and family into thinking you are a trove of information and insight. Today: the faces of long-term unemployment, Pentagon waste, our very first post-Snwoden Supreme Court ruling on surveillance, and more.

Change is Painful. But the Health-care Status Quo is a Complete Disaster. (Ezra Klein, Washington Post)
If you believed Republican legislators and a random sampling of pundits, America's health care system was just dandy until President Error Message showed up to monkey with it. Welcome, then, Ezra Klein, who swings in through the window with a strong, substantive reminder of why we're talking about health care reform in the first place: we pay way, way more than the rest of the world for lower quality and less frequent care.
Americans spend 17.7 percent of GDP on health care. No one else spends even 12 percent. Let's make that more concrete: If Americans only spent 12 percent of GDP on health care we would have saved $893 billion in 2012.

The reason isn't that Americans get more health care than anyone else. We have more uninsured than anyone else. We have fewer physicians per capita than anyone but the Japanese. We go to the doctor less often than anyone but the Swiss. We don't have more hospital beds than other developed countries, and when we do go to the hospital, we don't stay longer.

But we do pay more for the privilege. The average hospital stay costs more than $21,000 in the U.S. It costs only $8,363 in France…Administrative costs in the U.S. are more than three times higher than in most nations with universal health-care systems.
Read the whole thing.
John Kerry Defies the White House on Egypt Policy (Josh Rogin, Daily Beast)
After weeks of bed press concerning the Obama administration's foreign policy, Secretary of State John Kerry is calling audibles, thus exposing a "simmering rift" in the cabinet over foreign policy. The conflict was glimpsed this weekend, when Kerry, during a surprise visit to Cairo, praised Egypt's path toward democracy, and did not mention deposed President Mohamed Morsi, despite National Security Advisor Susan Rice's request that he take a more critical line.
"The secretary and national security adviser's disagreement about how to handle the tumultuous and troubled U.S.-Egypt relationship is only the latest example of how the White House has steered America's approach to Egypt in a way that conflicts with the views and desires of the State Department and the Pentagon," Rogin wrote.
The two sides share the same goal of getting Egypt to a functioning level of democracy, but Rice has emphasized an inclusive government openly supportive of human rights, and is willing to disrupt financial support to achieve that. "We wouldn't have had any aid suspension at all if it had been up to John Kerry and Chuck Hagel," one expert told Rogin.
Longread of the Day: Caught in a Revolving Door of Unemployment (Annie Lowry, New York Times)
Technically from the weekend, but essential reading nonetheless. Annie Lowry puts faces to the (misleading) figures on the long-term unemployed, the destruction joblessness wreaks on their lives, and the incredibly difficult battle to rejoin the workforce.
Special Report: The Pentagon's Doctored Ledgers Conceal Epic Waste (Scot Paltrow, Reuters)
Today's Doublespeak Award: "unsubstantiated change actions," the Pentagon's phrase for inserting numbers into gaps in their annual accounting records.
In the second article of a series on "the Defense Department's inability to account for itself," Reuters accused the DoD of amending its expense reports for years. "Former military service officials say record-keeping at the operational level throughout the services is rife with made-up numbers to cover lost or missing information," Scot Paltrow writes. The "unsubstantiated change actions" are referred to colloquially as "plugs," and sources said the Pentagon's accounting department made thousands every month.
"After the monthly reports were sent to the Treasury," Paltrow wrote, "the accountants continued to seek accurate information to correct the entries. In some instances, they succeeded. In others, they didn't, and the unresolved numbers stood on the books."
The impact is felt far beyond the accounting office:
Reuters has found that the Pentagon is largely incapable of keeping track of its vast stores of weapons, ammunition and other supplies; thus it continues to spend money on new supplies it doesn't need and on storing others long out of date. It has amassed a backlog of more than half a trillion dollars in unaudited contracts with outside vendors; how much of that money paid for actual goods and services delivered isn't known. And it repeatedly falls prey to fraud and theft that can go undiscovered for years, often eventually detected by external law enforcement agencies.
NSA Spying Challenge Turned Aside (Lyle Denniston, SCOTUSBlog)
The inaugural post-Snowden challenge to the NSA's expansive surveillance state hit the high courts on Monday and…was a big flop. The Robed Nine refused, without comment, to consider a challenge from the Electronic Privacy Information Center, thus allowing an order from a FISA court judge requiring Verizon to submit data to the government to stand.
SCOTUSBlog's indefatigable Lyle Denniston points out that the case is "unusual," as it was submitted directly to the Supreme Court, rather than progressing through the lower courts, and that requests of its kind are rarely granted. So perhaps you shouldn't read too much into the oracle of SCOTUS' mood on surveillance from this first case.
[Image via Reuters, FDL, CSBJ, ABC News]
——
>> Follow Evan McMurry (@evanmcmurry) on Twitter
Have a tip we should know? [email protected]