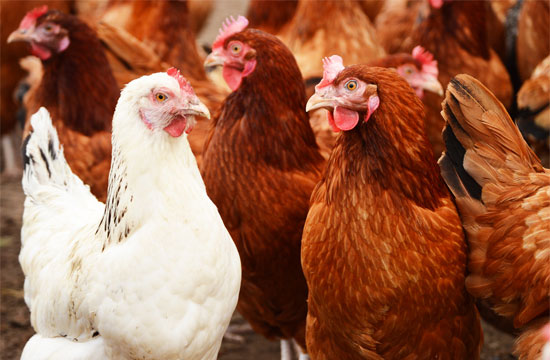 If you opened up the New York Times this morning, flipped to the food section, and read an article about high-end chefs breeding their own chickens at D'Artagnan, don't worry — you weren't hallucinating, nor were you trapped in The Onion. It was a Real Article.
Didn't read it yet? Not to worry, we've got you covered. To wit, six of New York's most celebrated chefs are in a gentleman's race to see whose menu can, when used as a full-fledged diet, create the tastiest chicken: 
On certain days, a truck pulls up alongside their quiet, spacious coop on an Amish farm here and delivers a feast that seems tailored to a flock of two-legged aristocrats. Before long, the rust-colored birds are pecking away at vegetable peelings and day-old bread from some of Manhattan's most elegant restaurants, like Per Se, Daniel, Gramercy Tavern, the Modern, and David Burke Townhouse.

It is all part of an experiment that is bringing together elite chefs, preindustrial farming practices and a breed of French poultry that is rarely found in the United States. The goal: to see whether American restaurants can turn back the culinary clock and rediscover "what a chicken should taste like," said Ariane Daguin, the pioneering businesswoman who is behind the idea.
At first, this sounds great: it utilizes scraps from kitchens (sustainability!), and it's a healthier diet for the chickens, which should translate into better-tasting birds, much like the French practices that Daguin wants to emulate. (According to the article, Jean-Georges Vongerichten burst into tears upon tasting one.) Considering the terrible state of American poultry farming, and the rubbery, fart-tasting chickens that result from it, this project could be an example of a Third Path to better poultry — and, since it was started by a group of prominent chefs, might be replicated throughout the country one day, like a healthier, happier version of the molten chocolate cake.
But here's where it crosses the line from "wonderful, world-changing project" to "stupidly over-the-top example of trickle-down chickenomics": the high-end scraps are trucked to a farm two hours outside of New York City (sustainability…?), and even crazier, each chicken has its own exclusive chef feeding it an exclusive diet. For instance, Per Se chickens eat food from Per Se. Daniel chickens eat food from Daniel. And all of these chickens eat better than the majority of the human race. ("Some of this is nicer stuff than I have to eat when I get home," a poultry expert noted in the article.)
And, much like rich people breeding fancy dancing horses for competition, the chefs are trying to out-feed each others' chickens:
"It's kind of like a weird competition," the chef David Burke said. "It's like, 'My chicken eats better than yours.' At least that's how I'm looking at it. I'm going to spoil my chicken like a pet."

He spoke of trying to influence the flavor of the meat by throwing in mushrooms, celery root, pumpkin seeds, pretzel bread and maybe figs for sweetness. "Listen, if the chickens ate ginger and lemon, you would have a gingery, lemony chicken, I think," Mr. Burke said. "You are what you eat…Maybe we'll poach it in the same peelings that it ate."
Oh, yes! Of course! This fine heritage chicken will taste of celery root, with notes of fig and pretzel. The one problem with that concept, though, is buried in the bottom of the article: "To get enough calories and protein, the chickens also feed on pellets made from corn and soybeans."
Should we even mention that this project cost $250,000 to begin with? (A number of commenters, experts, and even the Amish farmer raising the chickens, called the company out on its extravagance: "We explained the concept [to the farmer]," Ms. Daguin said, "but for him it's like: 'What? You're driving two and a half hours to give me vegetable scraps? I have them right here.'")
This is normally the part of the post where we make a concluding statement, casting a judgement, if necessary, on the absurd, scientifically pointless extravagance of the entire project. But we're just broken at the moment.
Maybe we should convert to Buddhism. Let's face it, the chances of being reincarnated into celebrity chef chickens are way higher than the chances of eating celebrity chef food as a human being.
[NYT]
RELATED:
House Porn: Michael White Imports His NYC Rooftop Garden Soil From Blue Hill
Vanity Fair Accuses Thomas Keller, Ferran Adria, Charlie Trotter & More Of Culinary Tyranny
So, What's The Deal With Forbes's List Of The World's Richest Chefs?
Have a tip we should know? tips@mediaite.com