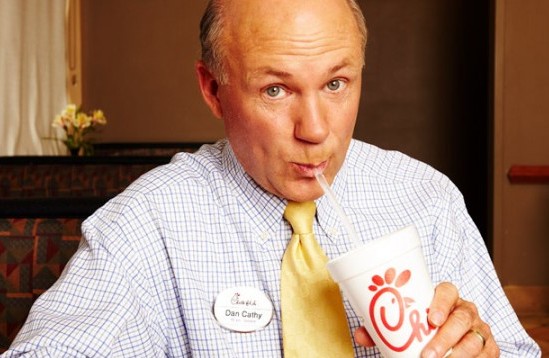 During an interview with the Baptist Press, aka "News With A Christian Perspective," Chick-fil-A CEO Dan Cathy was probably feeling very comfortable discussing the chicken chain's biblical values. This is maybe why they buried the most controversial part of the story — a question about the company's reputedly anti-gay marriage stance — at the very end: "Guilty as charged," Cathy confirmed.
It's been rather obvious, really, but the company's traditionally remained mum when pressed about their frequent donations to anti-gay groups. Cathy's thorough response confirmed their position, however:
We are very much supportive of the family — the biblical definition of the family unit. We are a family-owned business, a family-led business, and we are married to our first wives. We give God thanks for that…We know that it might not be popular with everyone, but thank the Lord, we live in a country where we can share our values and operate on biblical principles.
And then the Liberal Media began Liberal Media-ing all over poor Dan Cathy, with LGBT activists denouncing his bigoted ways. Wait, that quote wasn't so bad. Why are they freaking out? Let's go over to Ken Coleman, who interviewed Cathy on his podcast:
"I think we are inviting God's judgment on our nation when we shake our fist at Him and say 'we know better than you as to what constitutes a marriage' and I pray God's mercy on our generation that has such a prideful, arrogant attitude to think that we have the audacity to define what marriage is about."
Oh. We see now.
[HuffPost]
Have a tip we should know? tips@mediaite.com