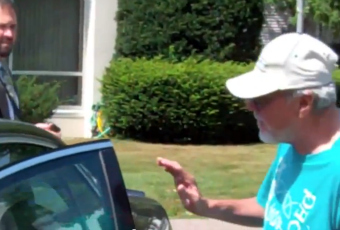 After speaking to the Wausau Daily Herald's editorial board on Monday, Rep. Sean Duffy (R-WI) was confronted by 73-year-old Wausau, Wisc. resident Wayne Olson, who attempted to ask the congressman whether he plans to vote for a bill to raise the federal minimum wage.
Olson accosted the congressman as a volunteer for CREDO Super PAC, a San Francisco-based liberal group dedicated to unseating Tea Party-affiliated elected officials. When he approached Rep. Duffy, he asked, "Mr. Duffy, when are you going to hold your next town hall meeting?"
As he got into his black car, Rep. Duffy replied calmly, "We said we're going to do one every year, and we've done that. So if you want to come set up an appointment in my office, we'd be happy to have you come on by," and then shut the door.
Olson tried to continue the conversation through the closed car window, asking the freshman congressman if plans to vote for a minimum wage increase, but Rep. Duffy started the car and drove away.
According to the Huffington Post, Olson is currently retired, but told the publication that he worked low-wage jobs all his life: "I was a meat cutter and I worked at a concrete plant and at different manufacturing plants," he said. "When I was a security guard, I made minimum, and when I was a janitor, I made minimum wage … Even when I was working in union jobs, I was paid poorly."
Olson added that Rep. Duffy is likely not interested in answering questions about the minimum wage: "He doesn't support anything that has to do with the common person," Olson said. "He supports big businesses with tax breaks."
"I'm sure Mr. Olson is a nice guy, but CREDO is a liberal San Francisco based Super PAC intent on pulling stunts and nothing more," Rep. Duffy spokesman John Gentzel told Huffington. "If they'd really like to set up a discussion on the minimum wage, I'd encourage constituents to call our district office, schedule a meeting and come in to discuss their issues. We'd be happy to have a policy discussion."
Recently, a handful of Democrats on Capitol Hill have advocated for increasing the federal minimum wage from its current level of $7.25 to $10, but the idea has yet to pick up steam with party leaders including President Barack Obama. Nevertheless, groups like CREDO see an increased minimum wage as a method of stimulus during these tough economic times.
However, critics of raising the minimum wage say that it would place an extra burden on business-owners and increase unemployment among the low-skilled workers who normally fill minimum wage positions.
Check out the clip below, via CREDO:
(h/t Huffington Post)
>> Follow Andrew Kirell (@AndrewKirell)
Have a tip we should know? tips@mediaite.com