Chocolate Rain: British Reviewer Writes Brutal Takedown of All-Cocoa Restaurant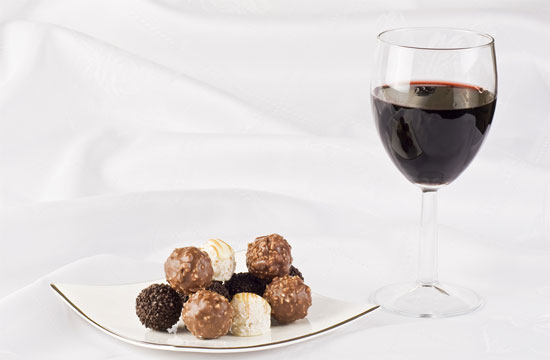 If you think that "restaurant serving cacao in everything on the menu" is an obvious gimmick, well, you'd be right. And if you also think that it's an obvious ploy to make sweet sweet moneys, then you're also right. So let's sit down and be satisfied with Marina O'Loughlin's editorial takedown of Rabot 1745, "Britain's first gourmet chocolate restaurant" serving "cocoa cuisine".
And yes, she BLERG'd as hard as you did upon reading that description: "They tell us this in the kind of breathless tone of voice that suggests it's what we've all been waiting for, much in the way we've all been waiting for Britain's first restaurant staffed by chimpanzees."
Apparently the menu was also designed by a room of a million chimpanzees with typewriters churning out strings of random, chocolate-related words:
The outrageously garrulous menu – why use one word when "rare, seared beef fillet infused with Borough-roasted cacao, celeriac, cornichon and juniper condiment, cacao gin jelly, cacao balsamic syrup" will do? – hammers home the message. It's not about sweet chocolate until you get to pudding, but rather cocoa bean, nib, rare white cocoa pulp. …we meet cocoa nibs in everything from soft-boiled eggs and salsify to focaccia, and the cuteness starts to get very old. You can have them crusting Scotch eggs (or "nib-crusted quail's egg pearl barley 'scotch egg' with warm salad of roasted vegetables, goats cheese and cacao oil emulsion", as the menu has it). Or with "sea tartare", or on buttered spinach; as curried nib oil or on in crackers with clam chowder. It arrives as a crumble with my blobby, spookily suave butternut dumplings, a messy assembly dotted with almonds and suffocated by creamy butternut puree.
What happens when one is subjected to, well, a chocolate rain?  "I'm as queasy as if I'd necked a family-sized Galaxy selection box."
Read the entire review at the Guardian, or click here if you now have that song stuck in your head. You know. That one.
RELATED:
Reports: World Faces Severe Wine and Cocoa Shortages
Eric Ripert Discovers Rare White Cocoa Nibs, Is Now Willy Wonka
WATCH: Richard Blais And YouTube Star Tay 'Chocolate Rain' Zonday Take Over Burger Lab
Have a tip we should know? [email protected]