Christina Tosi Pairs Up With Estée Lauder for Rose Petal-Perfumed Cookie Collaboration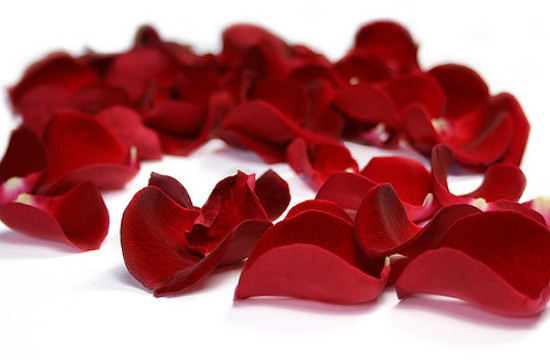 And we learn a lot of beauty secrets from the baking goddess herself, and we're not even all that mad about it. (At least Estée Lauder gives proper due to her culinary career, and not just about how she stays thin.)
But first, those cookies: the "Estée Cookie," created by Christina Tosi, is made with Estée Lauder's signature scent, Private Collection, using the beauty icon's "prized rose extract." Now that same rose extract finds itself in a cookie, which Epicurious attests "that the cookies are divine." And you can make it at home.
get the scoop on our strawberry & rose cookie made for @EsteeLauder! recipe at http://t.co/ZRknbO6Xz7 #TheEsteeEdit pic.twitter.com/szCPkuXGNC

— momofuku milk bar (@momomilkbar) August 12, 2014
And in a profile of Tosi on the Estee Lauder website, Tosi shares her skincare and makeup routines, which are minimal and nice. Says Tosi, "…I always keep powder, shine-free blotting papers and lipstick in my bag because when I'm actually going into a meeting I can't look like I just came from the kitchen, even though that's a romantic notion." (Or sweating from a hot sweaty subway commute in a New York summer — oh, just us?) And she, and David Chang, like their pedicures.
For Tosi, regular foot massages are necessary indulgences. "I run a lot, walk everywhere, ride my bike and spend most of my day standing, so my feet are the thing I probably pamper the most," she says. That means weekly deep spa pedicures ("if it doesn't take an hour and a half, they're not doing it right"), often at Pastel, a nail salon near Momofuku Milk Bar's flagship East Village location which was recommended to Tosi by David Chang himself, who happens to be a regular customer (you heard it here first).
We're now envisioning Chang and Tosi getting pedicures together which is kind of the best.
Milk Bar confirmed on Twitter that it won't be selling the Estée Cookie in stores, so we'll just have to bake them ourselves and pretend that we are just as uber fabulous as Tosi.
[Estée Lauder, Estée Lauder h/t Epicurious]
RELATED: "WATCH: Christina Tosi Rides a Pink Bicycle Onto The Taste, Has a Tea Party, Is Perfection
Have a tip we should know? tips@mediaite.com