Curtis Stone To Singlehandedly Save All The Baby Seals In Canada (With Help From The Humane Society)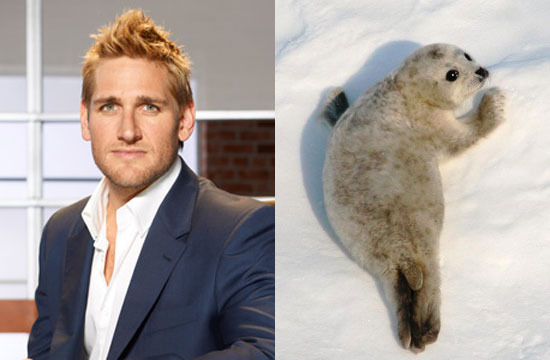 We write this post as a melted puddle of goo, because it's so damn cute: Curtis Stone and a bevy of other famous chefs have made a commitment to protecting the adorable, fluffy, cutie patooties known as baby seals, from the evil clubs of the meany seal hunters of Canada.
Joining the Humane Society of the United States, Stone, the chefs, and dozens of corporations have banded together to lobby the Canadian government to buy out commercial fishermens' sealing licenses, preventing the slaughter of "tens of thousands" of baby seals while compensating fishermen who once depended on sealing for their livelihood. But in order to make their voices heard, these chefs and companies are boycotting seafood products from Canada, pressuring the government and the fishing industry to reexamine their sealing practices.
"I'm proud to stand with The Humane Society of the United States and the hundreds of other chefs working to encourage Canada's fishing industry and its government to end the Canadian seal slaughter once and for all," Stone said in a press release. "It's important to stand up for what is right, and as chefs we have the power to enact change."
Sad part: the baby seals are often skinned alive. Curtis Stone is almost as cute as a baby seal, but no one wants to skin him alive, because skinning living beings while alive is a horrible thing to do.
Chefs with the same sentiment include Mario Batali, Carla Hall, Mary Sue Milliken, Susan Feniger, Patricia Yeo, and Michael Mina, among others. As a token of gratitude, they should all get baby seal pets. In fact, everyone should have baby seals as pets. Boom, environmental problem solved.
Updated to clarify mission of the Humane Society of the United States.
Have a tip we should know? tips@mediaite.com