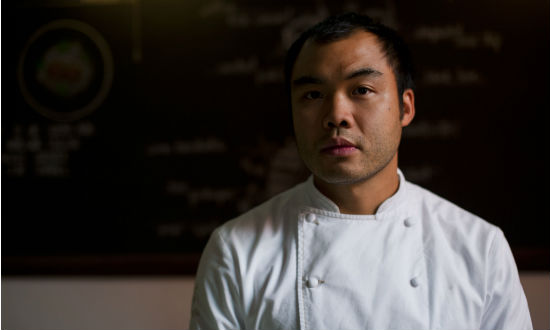 By this point, we're sure you've picked up on the fact that we at The Braiser are not about the food. We're not about the restaurants. We're especially not about the reviews. We're about the chefs. All that celebrity dishy-ness behind the food and the restaurant and the Michelin stars fascinates us. Sure, we looove food, and brag about the fancy places at which we are sometimes are allowed to eat, and will judge you if you "give your stars back," Marco Pierre White. But, ultimately, we want to know what the people serving up the food are all about. Thus: Dining Diaries was born.
Paul Qui, winner of Top Chef season nine, is the Executive Chef at Uchiko in Austin, Texas. Both he and the restaurant were nominated for James Beard Awards in 2010. The following year, he won both the James Beard Award for "Best Chef Southwest" and the Star Chefs Rising Star Award. He is also the co-founder of East Side King, a food truck regarded as one of the best in the country. From July 30 until August 4, he will be opening a pop-up restaurant in New York's CITY GRIT. And as if all of that wasn't cool enough, Paul has his own holiday in Austin: April 6.
So, we asked this Southwest chef where he goes…
To get an after work nightcap: The Liberty Bar. My go-to place for a drink. It's a great bar to unwind after a rough night's service.
For a late night meal: Thai Kitchen. Get the whole fried fish and the thai omelet, it's what I get when I'm craving some comfort food.
For your early morning coffee: Houndstooth, awesome coffee and extremely knowledgeable staff.
For a weeknight dinner in the neighborhood: La Condesa, great food, good friends and steps away from my building.
For dinner with visiting friends and family: Le Soleil. We love to eat family-style and share the curry fried catfish.
To get your favorite sandwich: Lilly's Sandwiches, best banh mi in Austin; they have the best bread. Make sure to eat your sandwich there while it's hot.
For a lazy Sunday brunch: Second Bar and Kitchen, great patio and it's one block away from home.
For your weekly grocery shop: Royal Blue. Great selection and they sell Jeni's Ice Cream sandwiches!
To order Tuesday night takeout: Fish Counter at Whole Foods. Our favorite low key place to eat.
To while away a sunny Saturday afternoon: We love chilling at the patio at Perlas.
To celebrate your birthday: It's usually a crawl throughout Austin.
Have a tip we should know? tips@mediaite.com