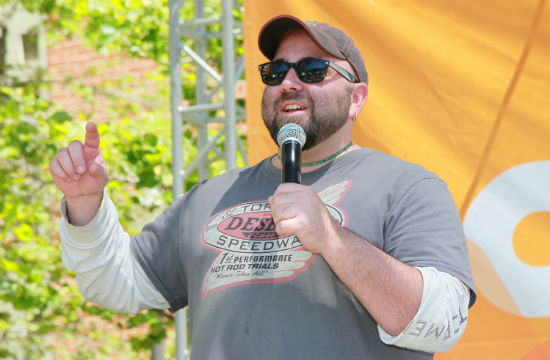 As you may or may not be extremely excited for, Google has announced the launch of 100 niche content YouTube channels, and among them, of course, is one dedicated to food. HUNGRY will be run by Food Network vet Bruce Seidel, while Ace of Cakes star Duff Goldman serves as the channel's talent and programming consultant.
All hands on deck at HUNGRY are intrigued by a new way to bring food TV to a younger and increasingly insatiable demographic, yes, but they're especially excited about the freedom to offer up a throwback to cooking TV of yore.
"Basically, the cooking show on television is almost dead," Goldman told the Associated Press. "When you look at the programming on any kind of cable food channel, you kind of find that everything is being replaced by travelogues, competition, reality. There is not a lot of instruction."
So, HUNGRY will feature one to three minute long episodes of cooking demos and celebrity clips, with the goal of having twelve series up and running by the end of the summer. Already in the pipeline are shows dedicated to Italian desserts, pork, and gluten-free cooking, as well as a show that follows a pair of Brooklyn caterers (ie., Girls for foodies). Another perk? The channel can basically do whatever it wants, free of the advertising machine that conventional television networks are slave to.
Says Duff, "It's magic. It doesn't have any boundaries. I don't need to make it 22 minutes. I don't need to make any sponsors happy. I can get away with stuff."
And what chef doesn't love to get away with stuff?
HUNGRY goes live on YouTube July 2nd.
Have a tip we should know? tips@mediaite.com