The 5 Best Quotes From Eddie Huang's Girls Recap: 'I Hope Some Asian Woman Yelps About It'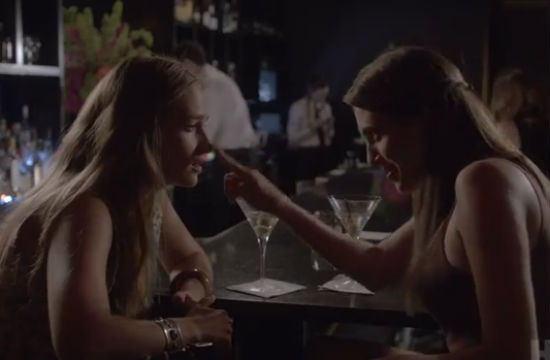 Blissfully on time with his Girls recap this week is Eddie Huang over on his blog Fresh Off the Boat. Eddie's recaps are slowly eclipsing the fun of watching the series itself. (We still love you, Lena!) Check out our 5 favorite blurbs from this week's Girls recap:
On Marnie's makeupless breakup face
"Jessa then tells Marnie you look "gorgeous" stripped down and it's kind of true. Marnie micromanages her image to a point where you can't even imagine a dick in her mouth anymore and that's not fun. She should be so happy to inspire those images in our heads… WHERE IS BOOTH JONATHON at times like this?"
On Adam's performance piece and Eddie's infamous disapproval of Mark Zuckerberg's engagement ring choice:
I hope some Asian woman yelps about it:

"Adam was TOTALLY gross with his revelations about jerking off in 6th grade, smelling like a gerbil, and reading in hammocks. Definitely not eating at THAT restaurant, but he looked Jewish… *sigh* Personal revelation, as much as I hate him, I realize I'd marry him if he started facebook and bought me a horrible ruby that looked like a zit with two white heads on either side. 3.5 stars."
On the almost-threesome
Marnie and Jessa start hooking up so I reach for the Jergens and a coozie for my dick, but then Marnie spills wine on dude's $10k rug and he bugs the fuck out! WHY LENA WHY? You give us disgusting gratuitous parent sex with Dad's dick on front street, but we can't get a menage?
On the threesome-ruiner
As for home boy, I've never been the type to get mad at blue balls, WORK ON YOUR GAME. Do some soul searching, work on your obliques, use that abductor machine at the gym that helps with reverse cowgirl stabilization, and STOP TRYING.
On why corporate threesome-ruiner types should not complain about their lives while picking up hipster chicks for failed threesomes
You chose to work your ass off for $100k and some soma. You're life sucks but you're the only one to blame. The "Girls" suck too, but if I was their Dad, I'd prefer them to wear bowler hats and men's shoes so dudes like me don't impregnate them. I'd rather someone like you who has nice rugs and a permanent address we can report for child support.
Stay tuned next week for more!
Have a tip we should know? [email protected]