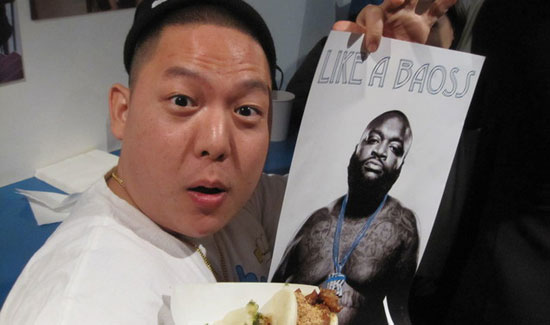 BaoHaus mastermind and Twitter connoisseur Eddie Huang also writes a blog called, like his memoir, Fresh off the Boat. It boasts some of the best recaps of HBO's Girls we have yet to come across, and, for that, we thank Lena Dunham for the gift that keeps on giving. Fun fact: Bobby Flay loves Girls, too! Eddie perfectly toes the line between appreciating the show's moments of greatness and sharing our (and other critics') annoyance. So, to spare you from adding another feed of brilliant Girls commentary to your Monday morning coffee time, here are our top 5 favorite excerpts from his recap of this week's episode:
Re: Hannah's claims of domestic abuse
"This shit happens in Stuytown all the time. Dramatic 20-somethings who miss spending Friday nights crying at raves now spending Sunday nights screaming about domestic non-violence. HE THREW YOUR TRADER JOE'S MICROWAVE KHAO-SOI MEAL DOWN THE COMPACTOR CHUTE, it's not domestic violence, it just means he doesn't want to smell you farting galangal all night."
Re: Marnie's boyf's apartment
"We arrive at Charlie's apartment and it looks like a Lucky Peach Paradise with plywood structures purchased at Momofuku Furnishings. The bedroom kit probably comes with James Murphy under the bed, Aziz Ansari in the closet, and toilet water that smells like cereal milk mixed with the scent of David Chang's shower sandals. Mmmm, makes me reminisce about Michael Jordan cologne."
Re: The Origin Story
We are transported back to the Girls' college years and every thing makes sense. OF COURSE THEY WENT TO OBERLIN COLLEGE.
Re: Marnie and Charlie's sex life
"You watch porn?"
"Yea, sometimes."
"Why don't you just like picture us… having sex?"
ARE YOU SERIOUS MARNIE? Why do you spend your evenings laying on a bed of phallic root vegetables looking at a poster of Booth Jonathon on your ceiling?
Re: Everything else that's annoying about hipsters
Don't you guys think it's funny when people from Portland want to take credit for the White Brooklyn movement? WHO THE FUCK WOULD WANT TO BE RESPONSIBLE FOR THAT? I'd rather be responsible for St. Patrick's Day!?!?
Check back with us next week for more!
Have a tip we should know? tips@mediaite.com