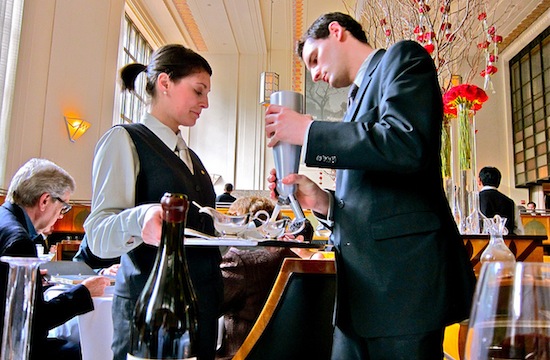 We live in the world of "egotarian cuisine," or, as Andrew Zimmern recently put it, "the age where no one is allowed to criticize the best chefs and restaurants in the world." Fair enough, we thought. Surely the best restaurants in the world can't be perfect, right? Right?
So, in order to give some really fair and balanced views of the world's best restaurants, we turned to the ever-reliable, ever-crazy customers unafraid to air their true opinions of a joint: Yelp. In a new series, we're digging through some of the most renowned restaurants' Yelp feedback to paint an accurate picture of what you're really getting for your dollar. As we suspected, Yelpers are hilariously jaded, bringing down the so-called best of the best.
This week, we're shining a light on the 4.5 Yelp-starred Eleven Madison Park. How many non-Yelp stars EMP has received, you might ask? Three Michelin stars since 2012, four stars from the New York Times in 2009, and a no. 4 ranking in S. Pellegrino's World 50 Best Restaurants. Nevertheless, our Yelpers found some flaws in the place — prepare for some hilariousness below.
Paul K.:
So you might be asking why 4 stars….Although the service treated you like royalty some of the food dishes were below what I expected. The level of difficulty in cooking asparagus inside an inflated pig bladder using broth is great and all but ultimately still asparagus. An A for effort but I can't give it the 5 star.
Leonard W.
The service is great but the food was not what we expected, we have tried a lot o better places in NY. I know they change the menu several times over the year and maybe this menu wasn't for us. The do try really hard to give you a great experience.
Vincent L.
First, the interior is underwhelming. It's nice, but not breathtaking.

The meat dish – prime rib – was underwhelming. If you didn't tell me it was from a fancy restaurant, I wouldn't think anything of it.

The cream soda at the end is overpowering. Not exactly nuanced.
Per P.
We've decided to downgrade our review to four from five stars for a simple reason: in retrospect, none of the dishes turned out to be truly memorable.

I still have vivid memories of dishes I've eaten at other *** restaurants, but not so much from EMP.

Yes, the clam bake was fun and creative, yes, the picnic basket super cute, yes, etc. etc, but I wish there was an "Oysters & Pearls" dish that I was still dreaming about.

Apart from that – top-notch.
Joe G.:
I have dined here numerous times. Its obvious they have changed the way the run the operation. The customer no longer comes first. We were ignored for 15 minutes before we got a glass of water and menu. I think all the good reviews they have recieved has gone to their heads. The quality of service has deteriorated dramatically. The food is not what it used to be. I think its time for management to rethink their attitude. We will not be returning after our last poor experience. For the kind of money they charge, there are dozens of finer quality establishments.
Don't Waste our Time…….
Rosey M.:
I'll start with that my wife and I are avid worldwide travelers, foodies and have no problem with paying for 5 star quality and service. Having been to some of the worlds finest restaurants, in our opinion, Eleven Madison Park is overrated. The decor is wonderful with lots of waiters and assistants running around. During a tour of the kitchen, one of the managers mentioned that they have 1 employee for every two guest. There was lots of attention, however, it felt impersonal, canned and rushed. The wait staff were like robots with no personality. Our main waiter was snarky, impersonal and gave the impression that our paying over $1,000 for dinner for a party of two was a privilege. The sommelier was very knowledgeable, however, initially recommended a wine that cost over $1,300.00. In my opinion, a $1,300 bottle of wine should not be his first recommendation. At the very least, he should have provided a range of wine. We instead settled for a $325 bottle of wine. The food itself were tiny bites which you could eat in one bite. The selected surprise ingredient (i selected coffee and my wife selected celery) ended up being a cheap 6 oz coffee and celery flavored soft drink. Some much for quality and creativity. Eleven Madison Park has a good marketing campaign that I believe that has mastered the heard mentality and if you don't like their food – you don't know good food. I hope this is beneficial.
GS K.:
They spilled water on my wife, twice. On one of those occasions the glass slipped and shattered on the table.
You might be wondering, how does a Michelin-rated restaurant overcome drenching its patrons. The answer is simple, they made it right without me ever having to say a word. We were taken on a tour of the kitchen and made a stupendous cocktail by a very sweet chef while we watched the cooks work their magic. On top of this, the restaurant completely comped our meal, including our pre-diner cocktail and our wine pairing. Going even further, the restaurant refused to run my credit card so that I could leave gratuity for the wait staff, saying that they would take care of it themselves. I felt guilty about this, and luckily I had enough cash on me to leave a full tip!

Ignoring the restaurant's experimental "day in the rainforest" course, the food and atmosphere were excellent. Rather than repeat the many other complimentary reviews below, I'll simply add that I view EMP as a strong recommend to anyone that doesn't mind sitting in the splash zone at Seaworld :-D
Marietta C.

For their creativity, exceptional food and service. They truly are special place.

But i don't want to go back again. By the time the 10th course came, my lower back hurts. Sitting 3 hours for a dinner is not my style. I appreciate the artistry but it is not for me.
Vanessa O.
Plating felt gimmicky–much was useless, though great for pictures or even video. Only 30% of the courses were tasty/amazing–others were mediocre. Bread and smoked sturgeon dishes were fantastic. Menu changes seasonally. They will accommodate for allergies or dislikes, however they substitute things like uni for radishes, so from a cost/value-perspective, I recommend passing on substitutions.

Don't be startled when the waiters stalk you on your way back from the restroom to pull out your chair.
Stay tuned as we delve through more Yelp reviews …
[Yelp]
RELATED: Hot On The Burner: Eleven Madison Can Do No Wrong
Why Eleven Madison Park Didn't Make The Foodie Top 100 List
Have a tip we should know? [email protected]