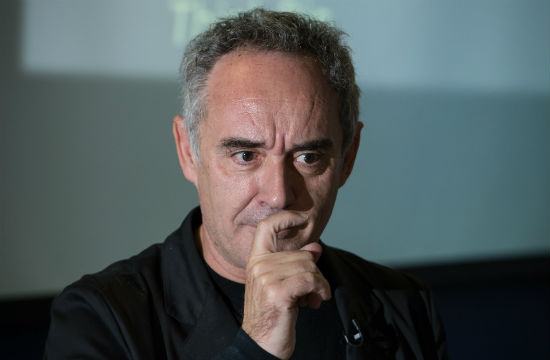 It's the kind of feature that just lets the reader shrug his or her shoulders and think "Eh, beautiful minds be beautiful minds, eh?"
That's the feeling we get after reading a 3,500-word New York Times feature on what Ferran Adria has been up to lately. And what has he been up to lately? Pondering a head of lettuce. (No really, he is.) The problem, as writer Sam Borden sort of demonstrates in his story, is that the world is waiting on his "second act" per sorts — and no one has any idea what the f*ck that might be.
The most illuminating passages on Adria are the ones that seem to question the madness behind the genius; read on (emphasis ours):
Mr. Adrià has proclaimed that the wait is nearly over. But even so, it is not altogether clear what the next act will be. His latest venture is an umbrella project known as the El Bulli Foundation. The foundation's aim, it seems, is to take on the entire notion of creativity, but for now it has so many potential elements that Mr. Adrià might deliver an effective elevator pitch only if he were stuck between floors. …

So what is his goal? The foundation's current mission seems to flutter between worldly and chaotic. Consider the activity on a morning in November: One group of employees worked in a corner of the loft on prototypes of a website known as BulliPedia that, when finished, will be a type of Wikipedia for haute cuisine. On the opposite side of the room, a young woman edited pages intended for a multivolume book collection tracing the history of food. At a desk facing the window, three men spent hours researching white asparagus. (It was not immediately clear what this was for.)
Well you tell us, Adria — what else do we need to know about white asparagus?
Granted, the profile does seem to lean a little sympathetic towards Adria's brand of crazy, pointing out that he's under tremendous amounts of pressure to live up to the elBulli name. And a brand name like that = $$$. Well, money in the scheme of things — not that money will pay enough interns to make El Bull Foundation a success. Read on (emphasis ours):
… it isn't obvious exactly how his ideas will make the leap from notion to project. Mr. Adrià has nominally divided the foundation into two main strands: knowledge, which is the group focused on creating BulliPedia; and creativity, which is focused on, in his words, "deconstructing the entire process of creativity." He calls this group El Bulli DNA.

If the names of the various projects aren't enough to keep straight, Mr. Adrià adds a few more: El Bulli Lab is the Barcelona-based office where people associated with El Bulli DNA do their work. That should not be confused with 6W Food, which may not get going for a few more years but is expected to be a sort of cross between a science museum, an art museum and a house of culinary innovation. Also in the works is a search engine known as SeaUrching (named in part for the delicacy) as well as a language to describe gastronomy known as Huevo, Spanish for egg. Huevo, it was noted by one of Mr. Adrià's colleagues, could ultimately be a digital language coded for use by refrigerators or other kitchen appliances.
So, we're already confused. And then!
At the conclusion of one of several long soliloquies, Mr. Adrià was asked what he expected the foundation's budget to be for 2015. He took a breath. "One million euros," he said. In response to a quizzical expression of doubt — moments earlier, he said he intended to have a staff approaching 75 — he explained, "We will hire a lot of interns."
OH GOD, not even Ferran Adria can avoid the use of unpaid interns. OH GOD.
Also in the article is more on the stalled construction of the El Bulli museum in Spain, and more soliloquies on heads of lettuce. We're leaving this article just as confused as we started, but still in awe of the genius. That was the point, right?
Have a tip we should know? tips@mediaite.com