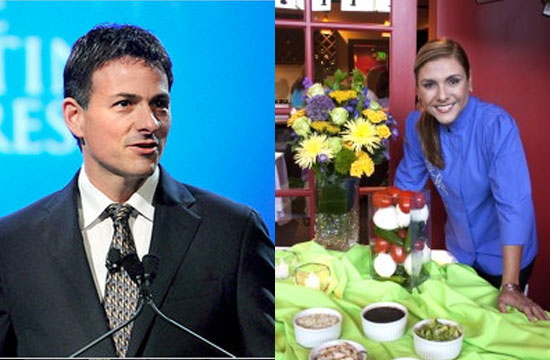 We've had serious problems with Lorena Garcia's decision to create a cheap Taco Bell knockoff of every Chipotle product ever made, and a big issue with her assertion that chicken Caesar salad is Mexican. We may have even been hoping that the campaign would fail miserably, with Taco Bell executives cry-eating a mountain of Doritos Locos tacos, cursing their life decisions.
But apparently (and this is without knowing what Yum! Brand's third-quarter report, released next week, says about its success) Cantina Bell has been doing so incredibly well, that famed hedge fund manager Dave Einhorn recommended short-selling stocks in Chipotle, citing Garcia's menu at Taco Bell as a key reason for Chipotle's impending collapse.
"Reception for Cantina Bell has been mostly positive […] and Chipotle is at risk of losing its frequent customers," Einhorn said, according to MarketWatch.
He also pointed out that the low barrier to entering the taco/burrito market, as well as the looming, drought-induced price hikes in grain and meat, spell trouble for a company struggling to pay for its employees' health care in order to comply with Obamacare.
The Greenlight Capital manager has a reputation for being freakishly prescient about his market predictions: Einhorn famously shorted Lehman Brothers before its collapse in 2008. Because of this, people and markets tend to listen to him: after his comments, Chipotle's stock fell 6%.
But before you go about trying to decry the unfairness of free-market capitalism and planning Occupy Taco Bell rallies, take note: other investors think that Einhorn is a dorito loco. As MarketWatch lovingly aggregated:
In emailed comments, money manager Damon Vickers called Einhorn's comments "ridiculous," adding: "Taco Bell has been around for years. Chipotle grew in part due to their quality and Taco Bell's lack thereof."

On Twitter, the commentary was skeptical:

"CMG has plenty of problems, Taco Hell competition isn't one of them." @jeffmacke

" I wouldn't serve TacoBell to my dogs, but I'd take my wife to $CMG. don't see how the two are even comparable" @KidDynamiteBlog

"Einhorn's comment about Taco Bell being a threat to $CMG is like saying Ruth's Chris should be worried about Sizzler." @KenShreve

"Clearly Einhorn can read financial statements but does he have taste buds? " @TopGunFP
And even Einhorn didn't recommend Yum! Brands, Taco Bell's parent company, as a long-term investment, though he did say it was an "interesting" company. (Its stocks fell that afternoon as well.)
[MarketWatch via HuffPost]
Have a tip we should know? [email protected]