Floyd Cardoz Breeds Praying Mantises To Eat Garden Pests And Eventually Humans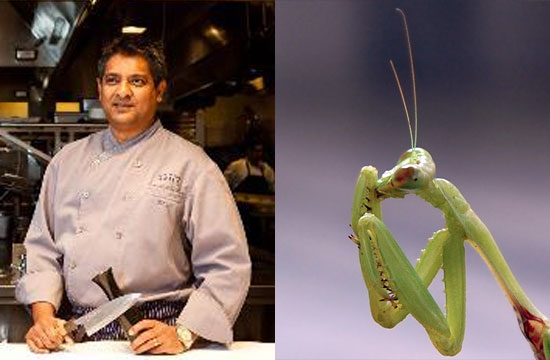 Decades from now, when humanity has been reduced to small populations hiding in catacombs deep beneath the earth from the Praying Mantii Overlords, they will think back to that fateful, accursed day that marked the beginning of the end: the day that Floyd Cardoz, former chef at Tabla and currently of the North End Grill, bought his first praying mantis cocoon.
As the giant praying mantises stomp through the cities, looking for sweet, crunchy human flesh to devour, the last of mankind will weep while reading this blog post from Cardoz, detailing how he'd hoped to use the praying mantises to rid his garden of pests, at the suggestion of his sous chef Ty Kotz:
The first year I purchased one cocoon. As luck would have it, I was in the right place at the right time and I saw it hatch one day. There must have been about 50-100 really tiny praying mantises that emerged and they were almost beige in color (they turn green when they reach adulthood). After they hatched, I saw them for a week near the cocoon and then they disappeared. And then, one day in the middle of summer, I spotted this big praying mantis that was about 2-3 inches long. Although I'm not sure how many survived, I ended up seeing about 6 throughout the summer.

I have been hatching praying mantises in my garden ever since, and I'm happy to report that I haven't had any infestations since I started buying them. Who knows, one day they might even pay a visit to the rooftop farm at North End Grill!
History does not say what happened between that first cocoon and the utter devastation of civilization — perhaps one of Cardoz's mantises experienced a genetic or radioactive mutation that gave it intelligence, eventually leading its brethren in an uprising; perhaps a Mantis Queen, her only goal the complete subjugation of mankind, awoke from her eons-long slumber. Or perhaps, the healthy, organic material in Cardoz's garden, combined with an abundance of delicious aphids, led the mantii to wonder if humans tasted just as good.
RELATED
Shame On Sandy Benefit Show Lineup Announced: Eric Ripert, Gail Simmons, Mario Batali, And More
Rene Redzepi Would Like To Start Serving Ants To Diners At NOMA
Kosher Certification Has Zero Tolerance For The 'Maggots And Insect Fragments' In Your Food
Have a tip we should know? tips@mediaite.com