Q&A: Gordon Ramsay on Poaching His Critics Sous Vide, Hotel Unions, and Daughter Tilly
The Braiser Interview: Gordon Ramsay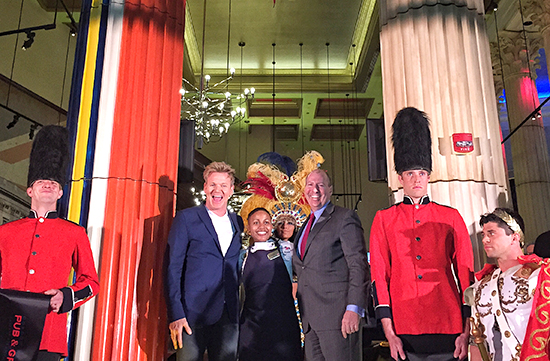 "Now anybody doubting that this city is on the decline, that is utter bullshit," Gordon Ramsay declared before Atlantic City's first spring bloom of Atlantic City beach-goers and gamblers. And after Caesar heralded and Cleopatra photo-bombed the Masterchef star, Ramsay tapped a ceremonial firkin to the sounds of a bagpiper, toasted the grand opening of Gordon Ramsay Pub & Grill at Caesars Palace, and dashed through Hell's Kitchen protege La Tasha McCutcheon's kitchen to speak with The Braiser. Below, Ramsay opens up about his return to the east coast dining scene, the pressures of constant filming, and how he's coping with daughter Tilly Ramsay's break into television hosting (and what he dreams of doing to her detractors,) but not before reflecting on the lessons of his shuttered New York enterprise.
On putting Gordon Ramsay at The London NYC behind him…
"We had an incredible time there, and it was a shame to see it close, but the unions put a gun to my head. The one downside of working in these five-star hotels, you're governed by these unions. I'm not going to be sit there and be held for ransom, I'll start up elsewhere. The opening was incredible, and I wasn't worried about The New York Times in terms of the Frank Bruni reviews, only in terms of food, which was brilliant 100%.
On learning to cook for an American clientele…
"I think Americans enjoy the atmosphere equally as important as the food. This culture is different here, Everything is done en masse, whether it's the Super Bowl or Thanksgiving, with fifteen dishes on the table. Americans get irritated with too much fuss, it's one thing I had to adapt and learn quickly. So I think a chef like Jean-Georges [Vongerichten] or Thomas Keller, they got it right because they can engage the masses and fine dining. I opened a steakhouse in Vegas, and everyone said I was stupid doing a burger, but I said no, I'm not stupid, I'm doing my homework."
On his latest protege, Hell's Kitchen winner turned Pub & Grill chef La Tasha McCutcheon…
"I look at La Tasha, at the first service we did on Hell's Kitchen, and she was cool as a cucumber, fazed by nothing. And it's because it had nothing to do with TV for her. [Season 10 winner] Christina Wilson, the same. It had nothing to do with TV for her either. She wasn't interested in TV. Someone asked earlier how are they so comfortable on TV, and I said it's not TV, it's work."
On how you can't fool your audience once they're your customer…
"The customers here, they're too smart today. They access the internet, they're not stupid, they get a lot more educated before they see that shepherd's pie, those fish and chips, so you can't pull the wool over their eyes. The minute you start pretending they don't know the difference, it's game over. I thought La Tasha can run a brigade of 37 chefs here, and the confidence she's grown is extraordinary.
We've been open a month and she's elevated herself. Now in two years time if she hasn't moved on, I'll make sure she moves on, I want her to move on, I want her to open on her own, and if I need to put money into it, I'll put money into it. That's the kind of relationship I have. I want the Manchester United soccer team of kitchens. We go up, we go down, but we don't go out."
On his daughter Tilly's growing confidence…
"I think she eats well. She's not a snob. Ten years ago, we had The F-Word. She likes turkey, she likes bacon, and I said look you need to see where it comes from, we don't waste that. And from there we went to lamb, so from age three-four-five — before she was seven she had three animals that she cared, nurtured, raised, cleaned the shit out, relaid the hay, washed them, bathed them, and ate them. So her mind worked early, and I think a lot more of that needs to take place.
Also sometimes by defect, growing up with a shit start — humble, no money, no food, makes you grow up hungry for success. I think that's the side where I came from. So it's refreshing to see Tilly share those same values even though she's a different era, a different life. [My children] don't sit in front of Xbox, it's either sport or cooking. Their mind is active.
From an early age I used to make her across the table close her eyes, and I'd stick things into her mouth. She'd say "daddy, stop, it's mint. It's basil." And all of a sudden three, four, times later I put a calf's brain in there, and she said she's not too sure what that is. Calf's brain, and it didn't faze her! How many five year-olds do you know that eat calves' brains?"
On coping with her critics, and what he'd do to his own…
"We're going to take a lot of flak, about how it's easy for my daughter. But it's not easy for my daughter. she's the real deal, she can cook, with or without her mum and dad.
I think I'm thick-skinned, and it's easy to switch off the abuse because you've taken so much, but I'd want to put these fuckers in a sous vide machine and poach everyone of them if I had to sit there and take that crap personally. But I think the better you become, the more shit you have to expect to take, and I've taught myself to deal with it."
On how food waste can test perspective chefs…

"That's how we employ. I don't give filet mignon, I don't give foie gras,  I give a tub of waste, and I ask them to come up with something. Show me what you can do with waste."
On scaling back his filming schedule and feuding with Fox…
This shit is hard, and I've been in disagreement with Fox because I don't want to do two seasons a year, I want to do one phenomenal season. I don't want the jeopardy of any network putting a gun to my head.
I woke up one morning last summer in Biarritz where I was shooting, and the French only want to work 32 hours a week. I was doing Kitchen Nightmares and I said I'm done, I'm not doing this anymore.. I'm not announcing this to ITV or Fox Studios, I'm going to tell the world, I'm not going to put up with this shit anymore. Because when these restaurants fail you get shit. When they succeed you don't get any praise, and when they don't take your prescription you look stupid. you look nuts. People fall in love with an idea, but in reality it takes a lot of extra time.
Have a tip we should know? tips@mediaite.com