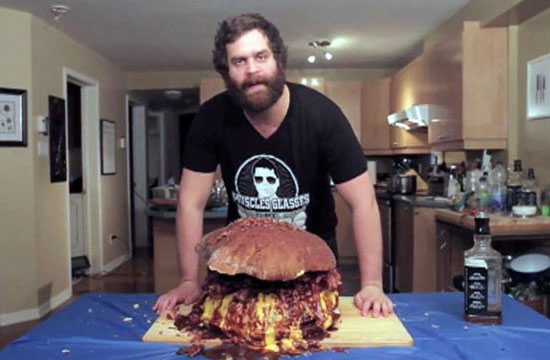 Haters! Yesterday, Harley Morenstein sat his behind a computer and entertained the questions of the Reddit populace in an AMA about his two online cooking shows, Epic Meal Time and Epic Chef ("I make Gordon Ramsey [sic] look like a nice guy in comparison," he boasted). And what do you know? Making a show about eating absurd combinations of junk food, alcohol, and pork products is difficult. 
The former substitute teacher revealed that because of the show, he's gained up to 40 pounds. (He's now down to 20 pounds heaver than when he started, and that he named his fat Balthazar.) In addition, he's notorious enough to be feared by all the fast-food restaurants in Montreal: "They start tripping out and I'm usually just in there for a single Baconator."
As for the high-caliber chefs now appearing on Epic Chef, Morenstein had one strategy to get them to participate:
I said "Hey! Wanna cook on the internet?!" they were like "Fuck Yeah!" I was like "I'm going to be mean…" they were like "Bring it."
Most expensive meal: the TurBaconEpiCentipede, a pig-poultry product based on a horror movie with the same concept, clocking in at $5000, with none of it paid by sponsors. Most disgusting: Ninja Turtle Soup. Most awkward sexual offer: "I had a guy offer me his girlfriend for a night after a live show once," Morenstein revealed, saying that he refused. "She was down. They were both begging. I felt weird inside."
This is the weirdest way to achieve internet money, ever. Heck, this is the weirdest way to become a celebrity chef, ever. But when a bacon cup full of chili four loko somehow ends up with one hanging out with Duff Goldman, we will ask no questions.
[Reddit]
Have a tip we should know? [email protected]