Sno-Cone Joe Arrested After Inciting Soft-Serve Turf War With Mr. Ding-A-Ling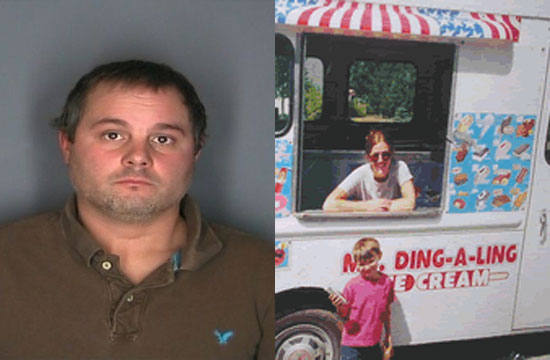 Dear Martin Scorcese: we have a brand new, ripped-from-the-headlines screenplay for you to consider adding to your pantheon of great American gangster flicks. Picture this:  a hilarious deadly, dopey vicious, turf war breaks out between an upstart ice cream man against a vast soft-serve empire, deep in the rough-and-tumble heart of (upstate) New York.
Trust us, you're gonna love it.
It's the story of a regular Joe. A "Sno-Cone Joe." (Really, his name is Joshua Malatino, but Sno-Cone Joe is such a great gangster name.) He owns his own roving ice cream business in a small town, lives with his Girl Friday, and they go about, every day, selling fudgesicles to the kiddies, see? But one day, a member from a rival gang shows up on the orders of their boss…the heartless mobster known as The Mr. Ding-a-Ling Company.
As the Times-Union of Albany printed:
"You don't' have a chance!" Malatino yelled to the 53-year-old Mr. Ding-a-Ling driver on one of his first days in Gloversville, according to court documents. "This is my town!"

Soon, police say, Malatino, 34, and his girlfriend, Amanda Scott, 21, were shadowing the rival driver across quiet city streets, blaring their jingles and trying to pry his customers away.

"Free ice cream!" they would yell to any parent or child sauntering toward the Mr. Ding-a-Ling truck, according to police.
But their tactics didn't work, and soon even all the coppers were in the money-lined pockets of Mr. Ding-a-Ling:
Police said Malatino and Scott's quixotic quest to run roughshod over their competition hit a roadblock Tuesday: Officers arrested them and charged them with harassment, a violation, and misdemeanor stalking.
Ooh, and here's how your movie should end, because this is exactly how Sno-Cone Joe's feud with Mr. Ding-a-Ling ended in real life: after multiple incidences of verbal harassment and repeated warnings from the police, Joe was arrested while tailgating a Mr. Ding-a-Ling truck up to a stoplight. This could easily be transformed into a dramatic chase scene, starting in a church, shot through some back alleys of upstate New York, then culminating in an epic car chase through the winding Adirondacks while "Gimme Shelter" plays.
Boom. Instant Oscar. No one's going to be debating about whether The Departed's Best Director win was really a retroactive award for all the times you were snubbed. You're welcome, Martin.
Have a tip we should know? tips@mediaite.com