In Honor of the Failed McResources Website, The Best Worst Advice from McDonald's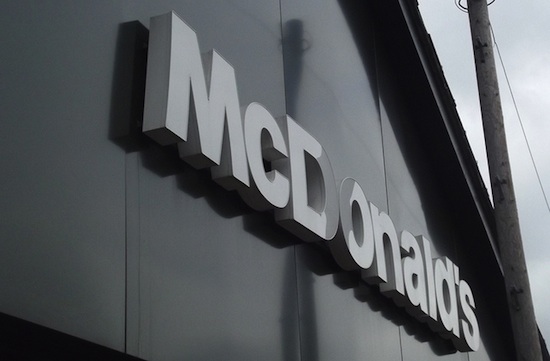 Ah, McResources — you gave us so much insight into what was wrong with the fast-food industry in general.
After several months of doling out brutally insensitive advice to its workers, McDonald's corporate team announced that it would be shutting down the website after "unwarranted scrutiny and inappropriate commentary." But frankly, that website deserved all the scrutiny it could get. While Bloomberg Businessweek writes (perhaps rightfully) that even good "McAdvice" may not have helped after all, it's safe to say that McResources was just an all-around shit-show for its workers. Where McResources went wrong:
Can't afford your lifestyle on what we pay you? Get a second job! In July, the world found the McDonald's budget planning guide on the McResources website, which the world gleefully delighted in saying that it was out of touch with its workers. For example, CNN Money noted, the guide left out food and transportation costs — because money and gas grows on trees, y'all. But the real kicker was a second line for accounting for a second income, which many took to believe as an admission from McDonald's that its wages were far below what was needed to make a living wage. (Living wage, the buzzword of 2013.) McDonald's in turn issued a statement saying the budget was a generic example.
Can't earn a living wage? Doesn't matter — tip your pool boys well! Because those who can't afford to eat or pay rent should obviously be more mindful of how they tip their masseuses, pool boys, and au pairs, amirite? McDonalds said the post came from a third-party partner, none other than Emily Post, which also proves just how out of touch the McResources team really was.
Still can't afford your lifestyle on what we pay you? Quit your bitching and break up your food into tiny pieces! Face. Palm. We meet again. In what we assumed was an attempt to understand its workers' financial struggles, McResources advised to break up their meals to make them last longer, sell their stuff on eBay to afford holiday presents, and to quit complaining — because that adds to the stress of not being able to survive on meager wages.
Hoping that that unhealthy shit we pay you to sell to the masses won't kill you in the long run? It will! The straw that broke the camel's back: McResources advised its workers to not eat the combination #1 on the menu and instead eat a salad. "Fast foods are quick, reasonably priced, and readily available alternatives to home cooking. While convenient and economical for a busy lifestyle, fast foods are typically high in calories, fat, saturated fat, sugar, and salt and may put people at risk for becoming overweight," the website read (in a now deleted post, obviously). Again, not unreasonable advice — but completely ignorant of its audience's needs.
Le sigh. May 2014 bring us into a world where people actually hope to help each other by listening to each other and their needs. (And maybe a living wage too, while we're at it.)
[CNBC]
RELATED:
McDonald's Still Has 10 Million Pounds of Frozen, Unsold Mighty Wings
Ezra Klein Compares Momofuku to McDonald's: 'If You Don't Think McDonald's Is Delicious, You Are The Problem.'
Last Call: This Story on Older Fast-Food Workers Will Break Your Heart
Have a tip we should know? tips@mediaite.com