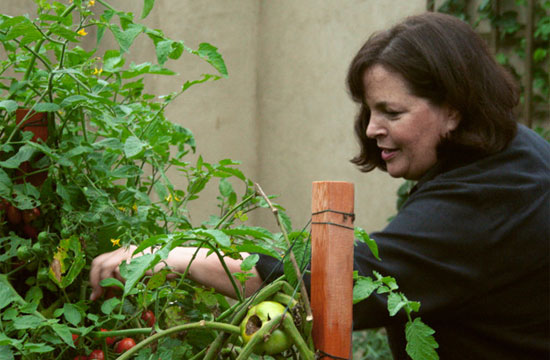 It's not particularly a sin to admit that you like gardening, especially if you're Ina Garten and you've become a small-scale lifestyle mogul based on your decadent bruschetta and mindbogglingly perfect garden. But she's the first to admit that she's not a capital-c Chef. "I'm someone who's never worked in a professional restaurant like Mario Batali or Bobby Flay," she tells the Wall Street Journal. "But I guess I ran a specialty-foods store for 20 years. That has to count for something."
But as she speaks of her garden, which Ina has tended for decades, she and the garden are no longer separate entities; she, the master of the garden, and it, the untamed wilderness; for now they have become of one spirit. Some selected quotes of Ina and the Garden speaking with one voice:
If I'm fixing up the house on a Friday, I just love to walk outside with clippers and cut whatever's there. It gives me an enormous amount of pleasure. I love my Felco clippers. I have, like, six pairs of them.

Gardening has taught me to have more patience. I used to want everything done immediately. I love the winter because I know it's all underground and it's waiting to happen and there's nothing to do.

Gardening is much more complicated than anything else I do. Planning it is really hard. You make a roasted filet of beef, you put it out and it stays the way it is. If you plant a garden, something changes every day. Something blooms and then it dies and then something else blooms and then it dies.

I hate cilantro. Not a chance I would grow that.

…I saw some dahlias that I thought were apricot-colored and when I put them in the garden I realized they're bright yellow and they're just horrible. I'm dying to rip them out.

Cooking and gardening are both really hard and I like the challenge of them. As opposed to what I did in Washington, they're both immediate. If I do something in the morning, I know if it was a good idea in the afternoon. They're very sensual pleasures.

I don't think of myself as a garden person because I do it for myself. A friend of mine who's a therapist said I'm like a supermodel who thinks she's ugly.
Ina Garten has taught us a valuable lesson: If you gaze into the garden, the garden also gazes into you.
[Wall Street Journal h/t Eater]
Have a tip we should know? [email protected]