It's Official: Your Waiter Is Likely Smarter, Richer (And Better Looking, Probably) Than You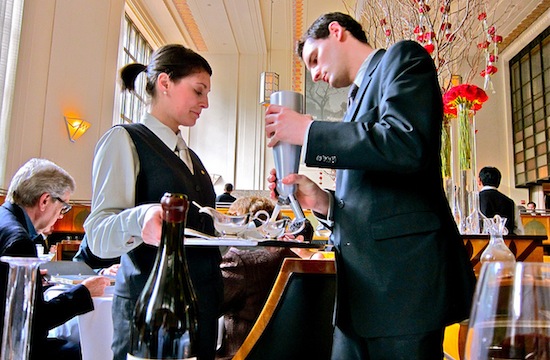 Waiters at Per Se, Eleven Madison Park, and Le Bernadin can earn between $80,000 to $150,000 in a year. And what have you done with your life today?
The Wall Street Journal reports on the growing trend of highly educated, and high rolling, waiters at high-end restaurants — waiters who aren't just "biding time before the next audition." Nope, serving tables is now a legitimate career path (tell your folks!) for foodies who don't want to spend long hours in a kitchen making pennies. (You gotta admit, it kind of makes sense.) And these servers are coming from the same elite programs as today's hot chefs; now, nearly 20 percent of CIA graduates enter front-of-house jobs rather than back of house, up 15 percent from 15 years ago.
And yep, Eleven Madison Park is basically the Miss Universe of serving tables.
Many of the servers at Eleven Madison are recent grads of the Culinary Institute, Cornell, University of Pennsylvania and Harvard. To attract young talent, Mr. Guidara [co-owner of Eleven Madison Park] says, the restaurant cultivates a teaching atmosphere, with events such as a weekly "happy hour" course on cocktails and wine often taught by experienced servers on staff. "It's hard for us to keep our staff from coming in three or four hours early," he adds. "They are not just here for a job; they give themselves fully."
We're off to go find our bag of veggie chips and question all of our life decisions up until now.
RELATED:
The 16 Worst Examples of Restaurant Behavior in 2013
reakfast Links: Your Waiter Is Watching You
NYC Waitress Claims She Was Fired For Not Covering Dine-And-Dash Bill, Owner Denies She Even Worked There
Have a tip we should know? tips@mediaite.com