How Evita, Homer, And Not Going To The Gym Helped Chef Jesse Schenker Drop 55 Pounds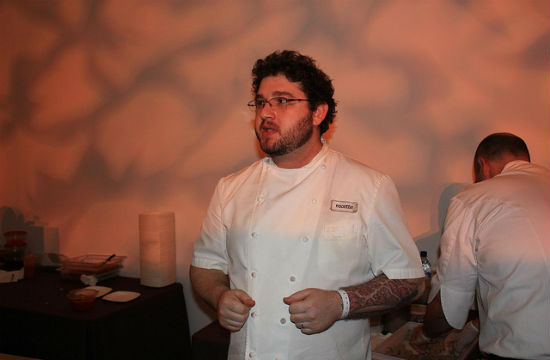 Chef Jesse Schenker of Recette in the West Village knew that seeing a conventional nutritionist wasn't going to help him trim down his 5'10" 255-lb frame while keeping a job in the culinary industry. He doesn't do the gym, he has to taste his restaurant's food, and he has to eat around town on his nights off to get a feel for the culinary landscape around him.
So, he met up with psychologist Stephen P. Gullo, who specializes in "behavioral nutrition," and, together, they brainstormed a diet that might fit Jesse's lifestyle. Dr. Gallo determined that Jesse was a "finisher" who couldn't leave a plate (or box, or serving platter) of food unfinished before him. "He still gets come-hither texts from Domino's in the middle of the night," the New York Times profile of his weight loss story noted, in reference to his former bi-monthly habit of polishing off a 12-inch pizza and a dozen buffalo wings.
With the help of a few literary allusions, Dr. Gullo fashioned an eating plan around Jesse's career, his bad habits, and his binge patterns. Said Dr. Gullo of why traditional diets often don't work in the cases of chefs:
"Jesse loves creating beautiful foods. I took a very Odyssean approach to his problem. The greatest and most powerful figure of the ancient world of mythology, Ulysses, had to learn to live in a world with Sirens. Homer is teaching us a great deal of wisdom that we lack in the diet field: that the human state involves vulnerability…

…I told him to get off the food-stamp diet. If he wants to go down the tubes, he should behave like Evita, and at least go out in style with his own gourmet food. Not with Buffalo wings and the pizza pie."
Now, post-dinner-service 1 a.m. meals consist of lots of shrimp and vegetables, Greek yogurt has replaced basically every other dairy product, and night-off food crawls can only go down if Jesse eats shrimp, veggies, and Greek yogurt the rest of the week. Basically, this is a shrimp, veggie, and Greek yogurt detox program. Behold, the depths a chef will sink to in order to continue his avoidance of the gym.
"I don't see a reason to start arbitrarily stuffing my face again," Jesse commented. "I'll never go near French fries. I'll never go near doughnuts. I know what an Entenmann's doughnut tastes like. That's not market research."
It's not?! Excuse us, we have to hit the gym now.
Have a tip we should know? tips@mediaite.com