Alex Jones Protests Piers Morgan's Trip To Texas, Accuses CNN Host Of Wanting To 'Conquer The Hillbillies'
Alex Jones Protests Piers Morgan's Texas Trip: He Wants To 'Conquer The Hillbillies'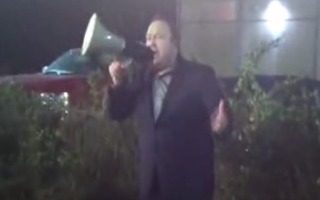 CNN host Piers Morgan took a trip down to Texas on Monday as part of his crusade to advance new legislation restricting the sale and possession of firearms in America. But another resident of the Lone Star State was there to greet the British broadcaster: radio host and former Piers Morgan Tonight guest, Alex Jones. The conspiracy theorist staked out a spot in the parking lot where Morgan was taping his CNN program and held court with local journalists. Later, Jones rallied a crowd of supporters to chant slogans in Morgan's general direction.

RELATED: Piers Morgan Shocked By 'Unbelievable Power' After Firing Assault Rifles At Texas Gun Range
Jones began his marathon protest in front of the venue where Morgan was broadcasting detailing his theories as to why the Framers valued the Second Amendment in a conversation with a local reporter.
"If you've got a guy who isn't an American – who we fought a war with over the right to keep and bear arms — saying things on his Twitter like 'I have come to America to conquer the hillbillies,' it's incredibly divisive," Jones observed.
Indeed, it would be "incredibly divisive" had Morgan ever tweeted anything like this. Fortunately, he never has.
"It's a good feeling to be around all these guns," Jones told the crowd. "But, see, statists like Piers Morgan – they only feel good when the state has guns. That means the federal state; the U.N. state."
Jones called Morgan "anathema" to the constitutional republic. He coined the term "Piers pressure," and said examples of this form of behavioral modification are evident in modern situation comedies which condition viewers to believe all guns are illegal weapons.
Unsatisfied with merely talking to local reporters – or, perhaps, after the news crews had departed — Jones grabbed a bullhorn and directed the crowd to scream at the venue where Morgan is broadcasting.
"The answer to 1984 is 1776," Jones chanted along with the crowd.
[videos via DerekShumate]
> >Follow Noah Rothman (@NoahCRothman) on Twitter
Have a tip we should know? tips@mediaite.com