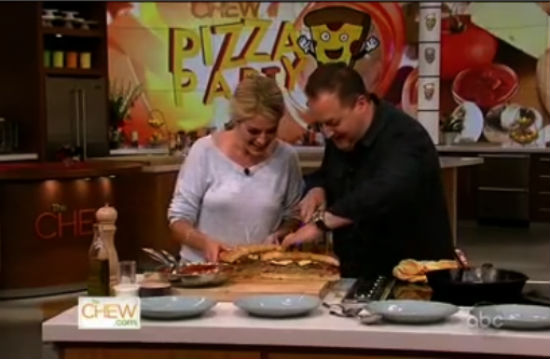 Guys, Josh Capon is a little kooky. To be fair, he was probably expecting to arrive on the set of The Chew and have a showdown with three-time Burger Bash winner and The Chew host Michael Symon, since Josh is himself a two-time champ, and would probably appreciate the opportunity to tie it up. But, as luck would have it, Josh was actually guest co-hosting today's episode to cover for Michael, who had the day off. Sad. We guess the boys will just have to wait till this year's New York Wine and Food Festival for a rematch.
In spite of a lack of opportunity to defend his honor, Josh burger-ified the festivities on the special pizza-themed episode of The Chew (in honor of National Cheese Pizza Day, which is today) by making an enormous pizza burger that feeds "two to eight people" according to him. (But according to Daphne Oz, it's eight healthy servings.)
"Winner, winner, chicken dinner!" Josh exclaimed as he sliced the giant sausage patty sandwiched between slices of focaccia. He may have also made up a song about tomato jam. Like we said: kooky.
But by far, the best part of his hosting gig was the burning questions segment, during which he admitted that the first time he cooked, he tried to hard-boil an egg in the microwave. Watch the clip below.
PS. There's some yelling about chocolate babies. We don't really know what that's about but we did some Googling that resulted in the discovery of the most horrifying candy known to man just in time for Halloween. Enjoy!
Have a tip we should know? tips@mediaite.com