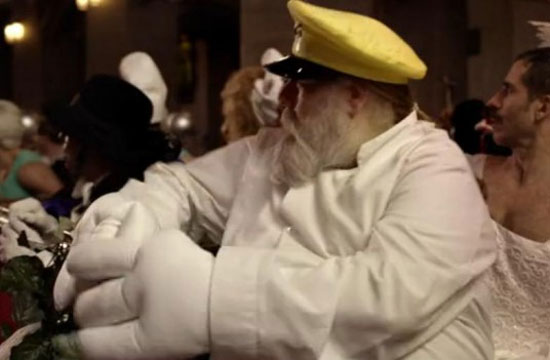 Eater: In fact, everyone who's ever been mentioned in any of Stefon's club recommendations show up for the Wedding Of The Century! And now we know what Wario Batali looks like. (Question: What would happen if he and Mario Batali drove around in carts and raced each other?)
Anthony Bourdain's Tumblr: A preview of the summer issue of Lucky Peach comes with this revelation: Anthony Bourdain might be a reluctant Adventure Time fan. Oh my Glob.
Grub Street: Fans of Nutella will celebrate the small pot of joy in an upcoming World Nutella Day, but no one can profit off it thanks to a cease-and-desist letter from Ferrero. Oh, come on! It's not like Coca-Cola ever gets cease-and-desist letters from Jesus telling them not to profit off his birthday!
The Daily Meal: We are soooooo over economist Adam Smith and his theory of supply and demand, because hipsters and their craving for PBR has led to a price hike in cheap beer. Thanks again, hipsters. You guys just keep making life better all the time.
The Express UK: Ever wanted to marry a celebrity chef? According to these women who engaged in chefly matrimony, the overwhelming consensus is "Hell, no." (We will point out, though, that all these women are from England and they do things differently over there.)
The Huffington Post: With the news that restaurant critic Tejal Rao left The Village Voice so soon after Robert Sietsema's ignoble firing, society reporter Michael Musto spills about the mood in the Voice's newsroom — which, hey, he's a gossip reporter.
Have a tip we should know? [email protected]