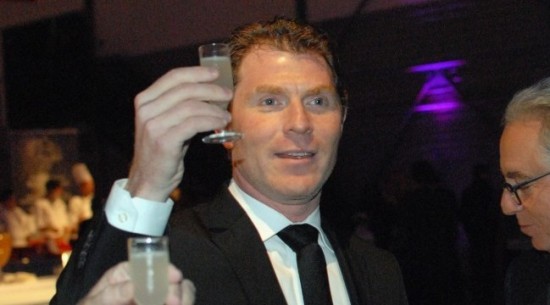 Grub Street: Or so the rumors go, according to Bloomberg's recent episode of Titans at the Table, where the host asks Bobby Flay point-blank if he's planning on running for Mayor of New York. "I'm, uh, open" to the idea, the grillmaster says, adding that people have approached him to do such a thing. Oh, please do it this cycle! We have the best headline already: "Flay Grills Weiner." Ah, what could have been.
Jezebel: Add vampire loremistress Anne Rice to the small pile of unlikely Paula Deen supporters. "I may be wrong," she wrote on Facebook, "but aren't we becoming something of a lynch mob culture?" As Jezebel points out in response, "Do you have an old copy of Encarta lying around? Look up the history of the term 'lynch mob.' Then STOP."
Tumblr: Ooh…behind-the-scenes photos of a dinner thrown by Wolfgang Puck, David Chang, and Roy Choi. Pretty colors. Pretty presentation. Pretty Jon Favreau training for that moviefilm he's making.
First We Feast: Once upon a time, the lads at Empellon Cocina decided to crowdsource ideas for some new tacos to add to their menu using the power of social media. Across the country, the merry Twitter demons at Red Medicine took the concept and ran far, far away with it into Absurdistan. Right now, they're at 31 new tacos: "Idea #31: hey can i get a reservation at empellon for 6 people taco?"
Huffington Post: It's still Gay Pride Month, and the makers of Grey Poupon showed their support with this clever ad, referring to their most beloved commercial ever.
Bravo's The Dish: Although America knows that Austin, TX has some of the best food in the country, Paul Qui blew the minds of the schmancy Europeans at the San Pellegrino Cooking Cup when he told them that he was from cowboys-and-cattle-land. "They always asked about Michelin stars because we were in Europe. And I'm like, 'No'…some of the chefs were like, 'You're doing this food in Austin?!'" Score one for the provincial American rubes, though, because Qui won the entire darn thing!
Have a tip we should know? tips@mediaite.com