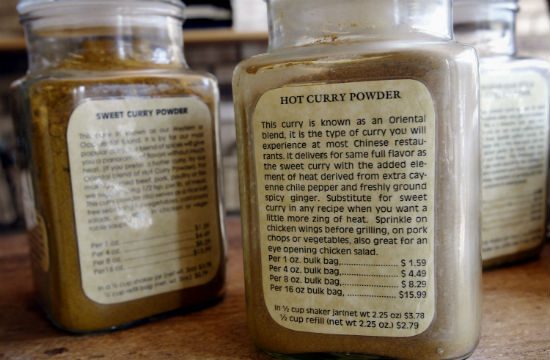 Japan Times: Let's journey to Japan for another installment of grisly chef murders, even though it literally kills us to write about them (that's your one death pun for Halloween season, folks). Three men are accused of killing a guy, dismembering him with a hammer on a mountain, and then grilling and currying his remains. The grilled limbs were disposed of on the mountainside, while the parts that were curried were evidently cooked in the spicy stew in order to mask their smell. Bye forever, Indian food.
Twitter: You know what would have been a much more efficient tool for dismembering a body than a hammer? Japanese knives. Like this fancy set designed by Chris Cosentino for Shun Cutlery! Is tableware porn a thing? We feel uncomfortable calling it knife porn.
Zagat: Like his main hombre Anthony Bourdain, Eric Ripert participated in a Google+ Hangout on behalf of Zagat today. Remember hangouts? They were like, the only redeeming part of Google+? We wonder if he was disappointed by the lack of serial killers…
Made Man: Andrew Zimmern finds blood foods underwhelming. He sees blood sausage and he's all, "Meh." Also, he thinks kid's menus should be outlawed, you should start feeding your kid the same fois gras you're eating, and food production needs to become de-centralized and re-localized or we're all going to die.
Twitter: Rock iconic Atlanta soul food spot Weaver D's (which loaned its slogan "Automatic for the People" to a 1992 R.E.M. album — maybe you've heard it) is in danger of closing, and Sean Brock is apparently leading a crusade to rescue it. Do we call Robert Irvine or just ask R.E.M. to cut another record?
Eater: Vikas Khanna graces the cover of Men's Health India with some of the rippedest goddamned abs we've ever seen. The chef behind Michelin-starred NYC resto Junoon also landed a spot on People Magazine's Sexiest Men Alive last year. If only he didn't have wannabe Don Draper hair…
Have a tip we should know? tips@mediaite.com