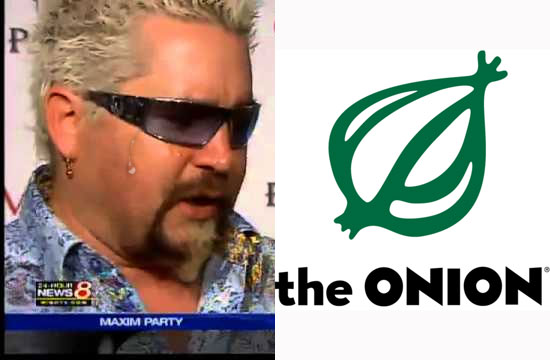 The Onion: Serious reports emerge that the franchise owner of a Bubba Gump's franchise has reached out to Guy Fieri in his darkest hour: "I've been there, bud," he reportedly stated.
Craigslist: Meanwhile in Flint, MI, Karl Welzein (aka Dadboner) takes up arms against Pete Wells by answering all of his questions on behalf of his Roadhouse 4 co-star. In re: the missing Vegas fries: "Then why'd you order 'em then?! 'Bring my soup, don't bring the fries, do this, do that, wipe my bottom, I'm better than you.' Corncob."
CBS: Let's leave it to the professionals at Late Night With David Letterman to actually come up with a Guy Fieri Top Ten List that acknowledges how obscure food world dramas really are. Though we have to admit: "Crust-crusted crust" is sort of brilliant.
The Atlantic: And now for some non-Guy Fieri news. Looking past the obvious famewhoring charges, Ken Gordon's thoughtful review of Life After Top Chef is probably the only one that grasps the main conflict in the show: "it's clear that everyone sees restaurant ownership as the only possible step after five minutes of quick-fire fame…[but] owning and running a restaurant is exhausting and, by its very nature, leads to an unbalanced life."
LA Weekly: Since our coverage today was dominated by that one guy, this is a public service announcement reminding all members of society over the age of 21 that Beaujolais Nouveau comes out today.  What is Beaujolais Nouveau? Please click here to find out, and then put on your shoes and jacket in order to walk out the door and purchase some immediately. (Hey! You forgot your wallet. Lush.)
Have a tip we should know? tips@mediaite.com