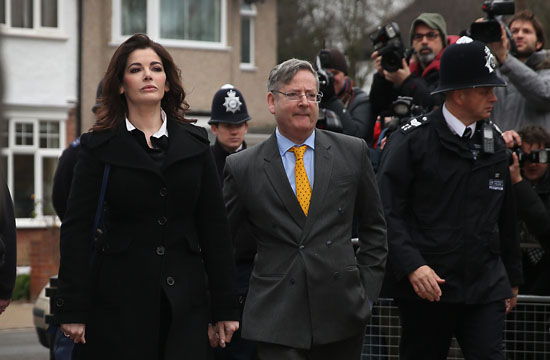 UPDATE: (10:55 AM): The judge has ordered a short break in the proceedings after Nigella Lawson admitted to recently smoking marijuana in front of her children:
Ms Lawson has also admitted smoking cannabis, starting "relatively recently" but said she has now given up. The defence lawyer asked whether she had ever smoked the drug in front of her children and she said, "Yes, I'm afraid I did," according to Sky News. The judge interrupted her answer and has now ordered a short break in proceedings.
While her admitted drug use seems relatively minor for US readers, the penalties for possession of cocaine and cannabis are harsher in the United Kingdom: Cocaine possession is a Class A offense and punishable by up to 7 years' imprisonment, while cannabis possession, though a Class B offense, could land her in prison for up to 5 years.
Don't worry, the British public is well aware that the current drug laws are insane:
A report released last month by the UK Drugs Policy Commission entitled 'Taking Drugs Seriously' concluded that current drugs legislation is 'not fit for purpose' and existing rules on drugs are doing more harm than good. The report warned that the exponential rise in 'legal highs' and the availability of substances over the internet is making current laws redundant.
UPDATE (10:27 AM): Nigella Lawson has officially admitted that she has used cocaine, but denies being an addict. From the BBC's Luisa Baldini:
#Nigella Lawson admits to taking Cocaine twice in her life. Once with 1st husband when he was dying of cancer 1/1

— Luisa Baldini (@LuisaBaldini1) December 4, 2013
2/2 # Nigella says 2nd time she took cocaine was after being subjected to acts of "intimate terrorism" by Charles Saatchi

— Luisa Baldini (@LuisaBaldini1) December 4, 2013
#Nigella Lawson : "I've never been a drug addict, I've never been an habitual user…I did not have a drug problem I had a life problem"

— Luisa Baldini (@LuisaBaldini1) December 4, 2013
The Telegraph reports Lawson admitted to using cocaine six times instead of two, but either way, if we can do math correctly, that does not sound like she did coke every day for a decade.
UPDATE (10:17 AM): Prostitutes have now entered the equation! But not like that:
 Nigella is asked about payments to Annabel's, a London club. Anthony Metzer QC, cross-examining, says there have been card payments of over £1,300 per day to the club. Nigella replies:"Mr Saatchi likes to drink wine, and he likes to drink expensive wine."
Sky news is reporting there was laughter in court when Ms Lawson offered the information that Annabel's does not allow women members because of fears "they could be prostitutes".
Oh London! You so sexist.
UPDATE (9:27 AM EST): Earlier in the trial, Lawson mentioned that she would buy "lavish" gifts for the Grillo sisters to thank them for their service, and the then-married couple footed the bill for one of the sister's engagement parties. However, they were never allowed to withdraw cash:
Aides, and even Miss Lawson herself, were never allowed to withdraw cash on the credit cards because "Charles kept a huge stash it above the fridge".

Miss Lawson said: "He put it in a lunch zippy freezer bag above the fridge. I think he did like a huge wad of cash because he didn't like to use credit cards himself."
But they were close enough to be privy to Lawson's personal thoughts:
Miss Lawson told Elisabetta Grillo that "I don't know how long I can take this" because Mr Saatchi would "shout and swear" at her.
The bullshit cross-examination of the day award goes to Queen's Counsel Anthony Metzer, who hinted that tensions in the Lawson-Saatchi marriage stemmed from Lawson's "bohemian" lifestyle:
Asked if Mr. Saatchi used to "shout and swear" at her, she said he did, and Miss Grillo may well have heard their rows.

Mr. Metzer asked if her background "conflicted" with Mr. Saatchi's as her lifestyle was more bohemian.

She replied: "I don't understand why my marriage is pertinent to you."

Mr. Metzer also referred to the couple's "unfortunate" divorce in July, to which she retorted: "I wouldn't say unfortunately."
9:30 AM: This morning, Nigella Lawson took the stand against her two former aides, Francesca and Elisabetta Grillo, whom she and her ex-husband Charles Saatchi are accusing of stealing up to £685,000 from the former power couple. The Grillo sisters had, in turn, accused Lawson of doing All The Drugs every day for the past decade, allegations seemingly stoked by an email sent by Saatchi calling his former wife, whom he had choked in public, "Higella." (He recanted these allegations shortly afterwards, when everyone looked at Nigella's face and thought, "Drugs? Really?")
During the trial, covered by the Telegraph, Lawson vehemently denied the rumors, and, according to various journalists reporting live from the trial, she claimed that they were explicit attempts by Saatchi to destroy her reputation, and that he had used the fraud case to air the allegations:
 "My relations with Mr. Saatchi were not good. He said to me that if I didn't go back to him and clear his name he would destroy me and also started spreading false allegations of drug use.

"In particular the awful incident in Scott's (restaurant) and I felt his way of getting this out was to use this case.

"In September a new addition to the defendants' defence statements came out in the form of drug allegations which incidentally Mr. Saatchi had menaced me with in August, and I thought 'what drug allegations?'

"These allegations appeared on a PR blog that had been dedicated to salvaging Mr. Saatchi's reputation and savaging mine.

"They had been put on the internet and sent to every media outlet and I felt that this would not become a fraud case, I would be put on trial and actually that's what has happened.

"I have been put on trial here, where I am bound to answer the allegations in the world's press and it comes after a long summer of bullying and abuse and I find it just like another chapter in that."

She said she had changed her mind and decided to come to court: "Because I felt I had to do my civic duty. It's difficult for me and it has been difficult for my children but I wanted to do the right thing."
We'll update this post as the trial continues.
Here's The Today Show's coverage of the case:
Visit NBCNews.com for breaking news, world news, and news about the economy
RELATED:
Nigella Lawson Accused of Using Cocaine, Pot, and Prescription Pills Daily for a Decade
So Now Nigella Lawson's Ex Has 'No Proof' She Did Drugs
Nigella Lawson Allegedly Attacked, Choked By Husband In Front Of Diners
Have a tip we should know? tips@mediaite.com