Small Victory For Martha Stewart In The Trench Warfare That Is Her Macy's Lawsuit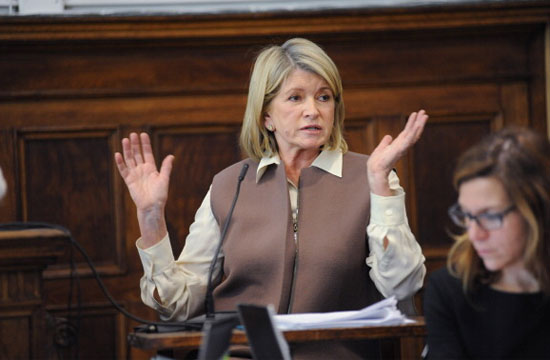 The arduous lawsuit between Martha Stewart Living Omnimedia (MSLO) and Macy's Inc. resulted in a tiny victory yesterday, according to Women's Wear Daily: Judge Jeffrey Oing dismissed Macy's secondary claim that Stewart committed a breach of confidentiality when she signed a deal with rival department store JC Penney.
But really, the charge of "breaching confidentiality" is like trench warfare, compared to larger point of the lawsuit, in which Macy's accused MSLO of breaching their exclusivity contract in order to sell fancy schmancy pots and pans with JC Penney. Essentially, this is The Great War.
In the case of this one charge, Oing ruled that the fact that JC Penney became an investor in MSLO did not necessarily mean that it had done so specifically to get its greedy little hands on the contract MSLO had signed with Macy's, which MSLO would have had to turn over to JC Penney anyway, thanks to securities law.  "I don't think the injuries presented to me now have anything to do with the confidentiality clause," said Oing, who called any potential damages done to Macy's "speculative in nature".
Of course, Macy's is treating Oing's ruling like the Dreyfus Affair: "This, as the judge indicated, was a secondary matter but nonetheless an important one," Macy's lawyer Theodore Grossman said. "We think that the judge's decision was clearly in error. We expect a clear, prompt and certain reversal." However, as WWD pointed out, "prompt" likely means in "months, if not years."
Speaking of trench warfare, this might be a great time to learn how to grow poppies, so you can wear one for the brave men and women laying down their lives in this dumb lawsuit.
Have a tip we should know? tips@mediaite.com