David Chang Graces Cover of New York Mag With Perfect Self-Deprecating Celebrity in 'Where to Eat 2015'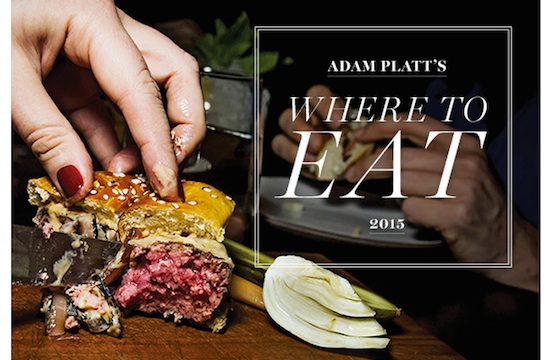 'Tis time for Adam Platt and the gods at New York magazine to deign where we shall all be eating in 2015, and with whom. Hey-o, David Chang.
Chang shared his New York magazine cover in the only way we would have expected him to:
Either someone @nymag lost a bet or they wanted to kill their sales this week pic.twitter.com/ZJJc662Haq

— Dave Chang (@davidchang) December 29, 2014
Adorbs. In the issue, Platt gives Chang the credit for the "postmillennial Asian-Fusion boom" we're currently experiencing. "But as the influence of seminal cooks like Jean-Georges Vongerichten and that Nobu of these pork-loving times, David Chang, continues to spread throughout the land, I would respectfully argue that the dark art of fusion cooking has never been more vibrant or widespread," Platt writes.
What else do we find in this "Where to Eat 2015" special guide? Platt's tribute to Bobby Flay — complete with a backhanded compliment. In a piece all about chef comebacks (emphasis ours):
This season's Comeback of the Year Award goes to Manhattan's own Bobby Flay, who after the unceremonious shuttering of his longtime flagship restaurant, Mesa Grill, and various star-crossed forays into distant frontier destinations like Atlantic City and Vegas, returns to town in a blaze of glory with a boisterous, crowd-pleasing production called Gato. In tone and style, the barn-size Lafayette Street establishment feels a little like a mash-up of the casual Mesa Grill and Flay's more high-minded (and also long-gone) Spanish-themed restaurant, Bolo. But like any practiced dramatic impresario, Flay has always been a master at adapting to the fickle fashions of the day, which means the menu here is larded with a blizzard of user-friendly finger-food options to go with the Bolo-like big-ticket entrées such as crisped tarragon chicken, an excellent duck confit (scattered in high Mediterranean style with pomegranate), and slices of charred prime sirloin dressed with crumblings of blue Valdeón cheese. … Be sure to book your table soon, before the peripatetic, easily distracted chef leaves his kitchen again to open another one of his signature burger or steakhouse joints in some far-flung culinary outpost like Tokyo or L.A.
Ha, OK then.
Other shoutouts: more love for Emma Bengtsson, the newest female Michelin-starred chef in New York City, the best new restaurants in town (AKA places we are guaranteed to never eat in, thanks for gobbling up those reservations guys), and "trends we're tired of." Of Scandinavian food: "Yes, there's a reason that the Viking King, René Redzepi, vacations in Mexico and is now foraging his mushrooms on the outskirts of Tokyo." HA! YA BURN. Go ahead and check out that full guide.
Have a tip we should know? tips@mediaite.com